COVID-19 in Sudbury & districts: Your weekly update December 30, 2021
Issued: Thursday, December 30, 2021
Reporting period: Thursday, December 23, 2021, to Wednesday, December 29, 2021.
December 30, 2021 — The following is a summary of how the status of COVID-19 has changed in Public Health Sudbury & Districts' service area over the last seven days up to end of day December 29, 2021: 591 new cases were reported and 240 cases were resolved. Seventy-eight (78) cases in the past week have mutations that are consistent with the Omicron variant. With the rapidly evolving situation and given the epidemiology and laboratory findings across the province, we can now presume that cases who screen positive for Omicron are indeed the Omicron variant. Eleven (11) COVID-19 outbreaks were active this week, including 5 in schools or on school buses, 4 in long-term care homes, and 1 each in a workplace and a community setting (public park). Four (4) outbreaks were declared over in the past 7 days, 2 in schools, 1 in a workplace and 1 in a long-term care home. There were no COVID-related deaths. At end of day December 29, 2021, there were 650 active cases in our service area and 8 active outbreaks. There were 6 local cases in hospital, while the rest were self-isolating.
Since the beginning of the COVID-19 pandemic, there have been a total of 5 287 local cases of which 4 637 are resolved. Sadly, 47 people have died in our service area.
Of the 799 local cases of COVID-19 reported since December 1, 2021, 325 cases have been among fully vaccinated individuals. There have been 474 cases in unvaccinated or partially vaccinated residents (those having received one-dose only). During that same period, there have been 14 local hospitalizations of which 10 cases were unvaccinated or partially vaccinated. Four (4) hospitalized cases were fully vaccinated. Interpreting vaccine status data: please note that data on case counts by vaccination status are preliminary—and highly subject to change. Comparing cumulative numbers from week to week may lead to incorrect estimates of case counts by vaccination status for the previous 7 days.
Based on local data from the last 14 days, the risk of contracting COVID-19 for unvaccinated residents of Sudbury and districts was 1.7 times the risk for fully vaccinated residents. Additionally, provincial data from the same period indicate that the risk of an unvaccinated individual currently being in hospital due to COVID-19 was 3.4 times that of a fully vaccinated person. Further, their risk of currently being admitted to the intensive care unit (ICU) was 8.5 times that of a fully vaccinated person.
Recent Trends
In the past 28 days, the overall incidence rate of COVID-19 in our area was 650.4 new cases per 100 000 population. Residents 19 years of age and younger had the highest rate at 1 013.1 new cases per 100 000 population. The rates among those aged 20 to 29 (951.2 per 100 000), 30 to 39 (803.7) and 40 to 49 (703.4 per 100 000) were also higher than the overall rate in our area. Rates among all other age groups were lower than the overall rate.
The local incidence rate in the past 7 days was 297.2 new cases per 100 000 population, compared to 129.2 cases per 100 000 in the previous 7 days.
Of the 591 new cases in our service area in the past week, 64 were a close contact of confirmed case. This means that Public Health identified how these people were exposed to COVID-19 and was able to take quick action to prevent further spread. Forty-five (45) had no known epidemiological link. No cases have yet been identified as either being travel related to linked to an outbreak. It should be noted that due to the large increases in cases this past week, four-hundred and eighty-two (482) cases remained under investigation.
Of the 591 cases reported this week, 509 reside in Greater Sudbury while 38 reside in Manitoulin district, 6 in Sudbury North, 23 in Sudbury West, and 15 in Sudbury East. (Note: for information on the definition of these geographic regions, please refer to the daily COVID-19 case update at phsd.ca/COVID-19/data)
The percent positivity was 13.2% for the period of December 21 to December 27, compared to 5.9% for the previous 7 days.
For the period of December 23 to December 29, the effective reproductive number (Rt) was 1.51 for Sudbury and districts and 1.62 for Ontario overall. The Rt value for Northeastern Ontario was not available.
Vaccination Program Update
To date, a total of 378 907 doses of COVID-19 vaccinations have been administered among residents in Sudbury and districts. Thus far, 168 505 people have received their first dose of vaccine and 157 138 people have been fully vaccinated (with two doses). A total of 53 264 people have received a third dose (current as of 4 p.m., December 29, 2021), which is 31.5% of residents aged 18 and over. Note, this includes vaccines administered by Public Health, First Nation and Indigenous communities, primary care, pharmacies, and external authorities.
Over the last 7 days up to end of day Wednesday, December 29, 2021, a total of 10 970 vaccine doses were administered.
Overall, 89.4% of Sudbury and districts residents aged 12 and over have received their first dose of a vaccine, compared to 90.7% for all Ontario residents aged 12 and over.
Second doses have been received by 86.5% of those aged 12 and over in Sudbury and districts compared to 88.1% for all Ontario residents aged 12 and over.
Overall, 85.9% of Sudbury and districts residents aged 5 and over have received their first dose, compared to 87.0% for all Ontario residents aged 5 and over.
Second doses have been received by 80.1% of those aged 5 and over in Sudbury and districts compared to 81.3% for all Ontario residents aged 5 and over.
82.1% of the total population of Sudbury and districts have received their first dose and 76.6% have been fully immunized. This means that there are over 48 000 residents who are not currently fully immunized.
The following is a depiction of vaccinations received by age for individuals 12 and over in Sudbury and districts.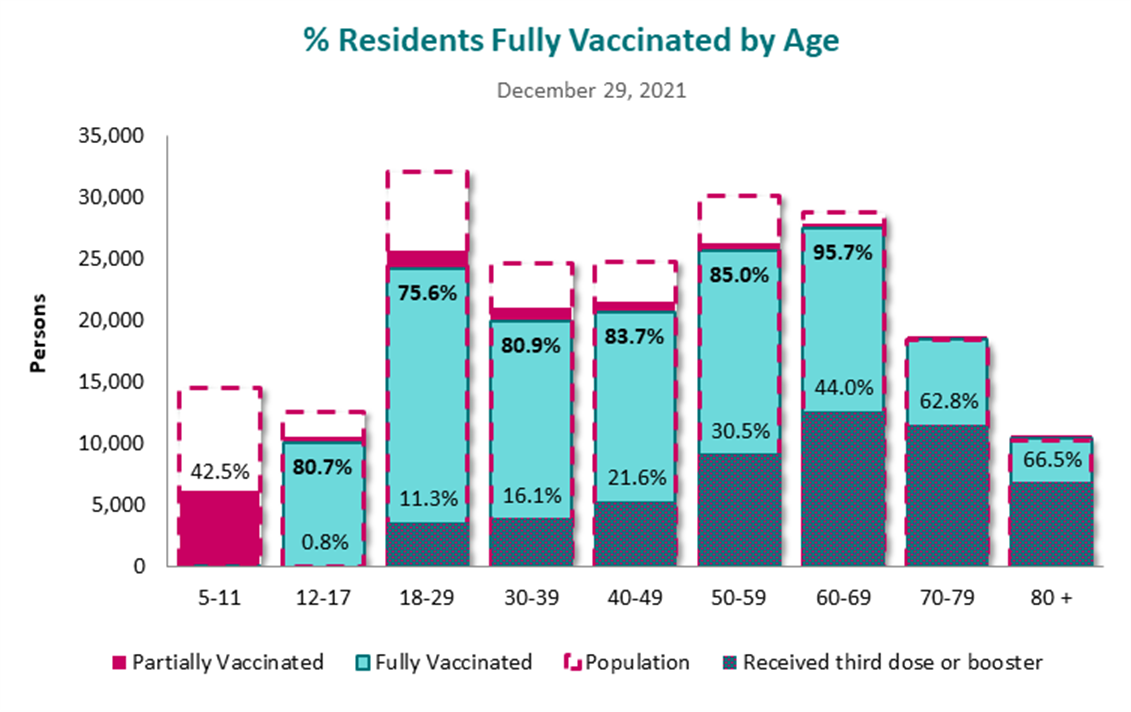 | Age Group | Dose 1 % Coverage | Dose 2 % Coverage |
| --- | --- | --- |
| 5-11 | 42.5% | 0.4% |
| 12-17 | 84.6% | 80.7% |
| 18-29 | 80.0% | 75.6% |
| 30-39 | 85.5% | 80.9% |
| 40-49 | 86.8% | 83.7% |
| 50-59 | 87.0% | 85.0% |
| 60-69 | 97.0% | 95.7% |
| 70-79 | 100.0% | 100.0% |
| 80 + | 100.0% | 100.0% |
Stay COVID-safe
As we celebrate the end of another year, this time in the midst of an unprecedented surge in COVID-19 cases fueled by the Omicron variant, it is critical to protect yourself and those around you from the virus. Remember that although the gathering limits are 10 people indoors and 25 people outdoors, the fewer people the safer for everyone. Continue to follow all public health measures while hosting or attending a celebration. Celebrating virtually or outdoors is safest. When outdoor gatherings are not possible, ensure proper ventilation indoors. Consider the vaccination status of everyone attending. Remember that a negative rapid antigen test is no guarantee and continue to follow all safety measures. Stay home if ill, even if symptoms are mild.
In the face of the Omicron variant and the unprecedented increase in COVID-19 cases, vaccination and following public health measures remain critical to help control the spread of COVID-19, protect health, and prevent overwhelming our health care system. Eligible individuals should get their booster dose as soon as possible. It remains important for everyone else to get their first or second dose if they have not already.
Navigating through the many changes and uncertainties of the COVID-19 pandemic has been challenging; however, we recognize that holidays can also be difficult for many. With this extra added strain on our mental health, remember you are not alone. Reach out for support. Crisis Services Canada 1.833.456.4566, ConnexOntario 1.866.531.2600, Kids Help Phone 1.800.668.6868, Hope for Wellness Help Line (for Indigenous Peoples) 1.855.242.3310, LGBTQ Youth Line 1.800.298-9688, Good2Talk (post-secondary students) 1.866.925.5454.
What's new
All previously reported cases that have screened positive for the COVID-19 Omicron variant and any newly reported cases that screen positive are now presumed to be Omicron. For more information, read the news release on phsd.ca.
Today, the Chief Medical Officer of Health announced updates to testing and isolation guidelines in response to Omicron, which also include changes to case and contact management. Additional announcements include the confirmation of a return to in-person learning on January 5, 2022, additional capacity limits in larger indoor settings, and fourth doses of COVID-19 vaccine to residents of long-term care homes, retirement homes, and other seniors' congregate living settings. Public Health is assessing the implications of these announcements for local public health response. For more information, please consult the provincial news release on news.ontario.ca.
Public Health reports COVID-19 case data Monday through Friday at 4 p.m. (excluding statutory holidays). Over the upcoming holidays, case data for Saturday, January 1 through Monday, January 3, will be posted on Tuesday, January 4, 2022.
Message from Dr. Penny Sutcliffe, Medical Officer of Health
Locally and across the province, COVID-19 cases are rising at an alarmingly rate—seeing heights not previously experienced. Moreover, the cases we do know of are likely just the tip of the iceberg—more and more, the confirmed cases reported by public health agencies are an underestimate of the true number of people with COVID-19. With Omicron now the dominant COVID-19 strain in Ontario, it's critical that our community acts in unison to reduce current and future strain on our health system, which could be quickly overwhelmed. The rise in COVID cases not only threatens access to much needed medical care, but also directly affects social and mental health, our local economies, and families and neighbourhoods. With New Year's Eve upon us, please keep your celebrations virtual and if in person, keep them minimal. Choose COVID-safe options to reconnect with friends and loved ones, such as very small outdoor gatherings with physical distancing or virtual gatherings. Following public health measures, without exception, is critical right now. On behalf of Public Health Sudbury & Districts, I want to extend my very best wishes to all for a safe and healthy 2022 – a New Year that ultimately sees the end to the global pandemic – an end that is possible thanks to the hard work and sacrifices of so many. Thank you and Happy New Year!
Regular updates
Visit phsd.ca/COVID-19/data for regular updates about COVID-19 testing, confirmed cases, as well as outbreaks and potential exposures in Greater Sudbury, the Sudbury District, and the Manitoulin District.  A detailed epidemiology summary is posted on Tuesday that includes information about cases over time, case characteristics, probable exposures, case outcomes, testing, and outbreaks in facilities. In addition, a detailed vaccination report is produced on Tuesdays that includes information about vaccine administration over time, by regions, by brand, by dose, and by age groups. The report also provides additional context by comparing our data to Ontario.
For more information or if you have questions, please visit phsd.ca/COVID-19 or call Public Health Sudbury & Districts at 705.522.9200 (toll-free 1.866.522.9200).