A Home Safety Checklist
Stay Active, Stay Independent and Stay On Your Feet! (PDF, 5 MB)
Did you know?
Falls are not a normal part of aging. They are predictable and can be prevented.
Your home, furnishings and lifestyle all affect your risk of falling in and around the home.
Removing hazards in and around the home can reduce the risk of falling and loss of independence.
Using Your Home Safety Checklist
Using this checklist, take your time and go through each room. Don't forget the basement, garage, porch and walkways too.
Think about having a family member or friend help you. Together you can spot the risks, make simple improvements and list changes needed to keep you and your family safe from falls.
It's time to take control of your independence!
Healthy aging
There are many factors which contribute to healthy aging. We may have little control over factors such as our genetic make-up, but there are many things we can do to maintain vital, active lives. As we get older, our bodies change and we can become more prone to falls. Certain risks can be eliminated and others considerably reduced by simple prevention measures.
This guide will help you recognize safety risks and help you make simple changes to reduce the chances of getting hurt in and around your home.
Changes with aging
Aging affects everyone differently. Some experience physical limitations that seriously affect their level of activity, while others are able to remain quite active. The following describes some of the changes associated with aging. If you are experiencing problems associated with these changes, consult your health care provider.
Vision
Eyes take longer to adjust from dark to light, and vice versa.
The eye becomes more susceptible to glare.
Changes in the eye can make it difficult to judge distance.
It's not as easy to see contrasts and colours. An older adult may have trouble seeing rug edges, door thresholds or wet surfaces.
Bifocal glasses make depth perception worse when looking down.
Touch
Sensitivity to heat, pain and pressure decreases.
Loss of sensation in feet may cause problems walking and driving.
Burns (from hot water or heating pads) and hypothermia (frostbite to toes and fingers) are safety concerns.
Smell
The sense of smell becomes less acute with aging, making it harder to smell spoiled food, burning toast, leaking gas or smoke.
Hearing
The ear becomes less sensitive to high pitched sounds. Sounds get distorted and/or softer.
Hearing loss may result in difficulty hearing telephones, door bells, smoke alarms, etc.
Hearing loss can also result in a decrease in balance.
Balance and gait
Balance involves vision, muscular strength and joint flexibility. Regular

physical activity

can improve strength and flexibility.
Changes in walking speed, gait and stride may affect safety making it more likely for someone to fall.
A cane or walker can improve safety.
Outside your home
Are the walkways and stairs leading to your home in good repair, free from cracks, holes and clutter
Are the walkways, stairs, ramps and paths well lit
Are the walkways, stairs and ramps finished with a  non-slip surface or safety treads
Are there handrails on both sides of entrance walkways, stairs and ramps?
Garage
Is the garage door easy to open and close
When your car is in the garage, can you get in
and out of it easily
Is the garage free from clutter, debris and other hazards
Is there enough lighting?
Remember:
Keep all walkways, ramps and stairs free of wet leaves, snow, ice and clutter
Keep a mixture of sand and salt handy for icy walk areas
Always wear shoes that have good treads
If you use a cane, fit it with an "ice pick" so it won't slip on icy surfaces
Your entrance
Do you have good lighting outside all entrances
Are the eavestroughs over the entrances in good repair and clear of debris
Do the doors have handles that make them easy to open and close
Is there a bench or shelf to put packages on while you open the door
Is the doorway wide enough (about 32″ or 80.01 cm) for easy use with a walker, cane or shopping buggy
Does the front mat stay firmly in position and is it in good
condition
Are porch and balcony floors in good shape and railings secure
Are all exits and hallways clear of boxes, shoes and other clutter?
Remember:
Keep roof and eavestroughs over doorways free from snow and ice.
Consider putting up motion detector lights to light up the path to your door
Your Stairs
Are all stairs in good repair

Are the height of steps even and no greater than 8″

(200 mm)

Are the widths of the stair treads even and at least 10″

(250 mm)

?

Do steps have a secured non-slip surface and clearly marked edges
Are there handrails on both sides of the stairway and do they go beyond the top and bottom step
Are the handrails mounted firmly and far enough away from the wall to allow for a solid grip
Are there light switches at both the top and bottom of each flight of stairs
Are all stairways well lit and free from shoes, packages and other clutter
Have scatter rugs been removed from top and bottom of stairs?
Remember:
Avoid carrying large or heavy items when using the stairs.
Keep one hand free to use the handrail.
Always wear shoes when using stairs, step stools or ladders.
Provide a night light in the stair area.
Extend handrails beyond the top and bottom steps to provide stability.
Your floors
Do all doorways have a low doorsill or threshold (less than one-half inch)
Are area rugs and runners fastened to the floor
Do they have a slip-resistant backing
Is flooring in good repair and floor vents secure
Are floor surfaces non-slip, especially wet areas such as bathroom, kitchen, laundry and entrances
Do you use non-skid wax and floor cleaners?
Remember:
Highly waxed floors can be very slippery and cause you to fall.
Keep bathroom, kitchen, laundry and entrances dry to avoid slips.
Scatter rugs are dangerous. Attach area rugs and runners with doublesided carpet tape.
Carpets with a low, tight pile are safest.
Your living space
Is there a light switch for turning on a light before entering a room
Is the furniture in your living areas arranged so you can move easily without bumping into objects
Are your travel paths clear of telephone and electrical cords, pets and their toys
Are the windows easy to reach and to open, close and lock?
Remember:
Pets, their toys and leashes can be tripping hazards.
Train your pets not to sleep on your travel paths. Pick up their toys when they are done playing.
When walking your pet, keep the leash short to reduce your risk of tripping on it.Consider installing motion sensor switches for lights.
Add electrical outlets and phone jacks to avoid extension cords.
A good stable chair with arm rests makes it easier to get up and sit down.
To make it easier to get in and out of chairs, consider putting wooden blocks under
furniture or use extra foam cushions to raise the seat height.
Your kitchen
Can you reach items you use most often without having to climb or strain to reach them
Do you have a step stool (with a safety rail) for reaching high places
Are heavy items in the lower cupboards and light items in the higher cupboards
Are the electrical outlets easy to reach without using extension cords
Can you turn the sink taps easily with one hand?
Remember:
Consider sitting down to complete kitchen tasks.
Avoid heavy lifting by resting large pots on the stove and filling with a cup.
Use a slotted spoon, metal colander or wire basket to remove vegetables or pasta from hot water rather than lifting the pot to drain.
Wait until water has cooled, drain using a cup or container so you don't have to lift the heavy pot.
Keep your emergency numbers beside the telephone
Your bathroom
Does your bathtub and shower have a non-slip mat or slip-resistant surface
Is there good lighting in the bathroom, including a night light
Have grab bars with a textured hand surface been added to your bathtub and shower
Is it easy to reach and turn the taps on your basin or  bathtub
Does your bathroom floor mat have a slip-resistant backing?
Remember:
By placing towel racks close to the sink and tub, you are less likely to drip water on the floor.
A bath seat and an adjustable shower head can provide stability for bathing.
A raised toilet seat and grab bars make it easier to reach the toilet.
Use a long-handled tub scrubber/mop when cleaning the tub or shower walls to avoid  bending and reaching.
Test the temperature of the water before getting into the shower or bath.
Your bedroom
Is there a switch to turn lights on before entering your bedroom
Is there a lamp or light switch within easy reach of your bed
Is there a telephone within easy reach of your bed
Is there a clear path from the bed to the bathroom
Is there lots of space to move around the room freely
Is there a working flashlight within easy reach of the bed
Are all area rugs, mats and runners firmly secured to the floor and do they have slip-resistant backing?
Remember:
Keep your emergency numbers beside the telephone.
Sit rather than stand to complete dressing activities.
Get light-sensitive night lights that brighten when it gets dark in a room or hallway.
Consider a long-handled shoe horn or sock aid for putting on socks and shoes.
Keep items you use often in easy reach in closets and storage areas.
Your basement
Is there plenty of light in the basement
Is your basement floor free from clutter
Are the edges of each stair clearly marked with a colour that stands out
Can you move through the room without bumping into things
Are the stairs well lit, in good repair and do they have a non-slip surface
Is there a handrail or banister on both sides of the stairway and do they go beyond the top and bottom step
Are there light switches at both the top and bottom of each flight of stairs?
Remember
Consider putting a phone in the basement or carry a portable phone in your pocket.
Have a flashlight handy in case of power failure.
Be sure you know how to shut off the hydro, gas and water service.
Your medicine cabinet
Do you know why you take each of your medications
Do you know what side effects your medication may cause? Some can increase the chance of falling
Do you know when and how to take each of your medications
Are your medications in clearly labelled containers in a cool dry place, away from the heat and humidity of the bath or shower
Do you keep an updated medication record, including any herbal supplements and over-the-counter medications, and carry it with you at all times?
Remember
Take old medications to your pharmacy or a hazardous waste disposal centre. Do not put them in the garbage or down the drain or toilet
Only use medication that has been prescribed for you. Sharing medication can be
dangerous and sometimes fatal.
Talk to your health care provider or pharmacist before taking herbal supplements or over-the-counter medications.They are there to answer your questions.
Healthy active living
Strength and balance activities are recommended two to four days a week. Below are some examples of activities you can do.
Lift weights or soup cans
carry the laundry
carry groceries, climb stairs
do wall push-ups
take weight training classes
stand up and sit down several times in a row
Endurance activities are recommended four to seven days a week. Below are some examples of activities you can do:
walk, swim, skate, dance
cross-country ski, cycle, hike
Flexibility activities are recommended every day. Below are some examples of activities you can do:
stretch, yoga, Tai Chi
wash and wax the car
garden and yard work
house cleaning, golfing
Remember:
If you are unsure of your health status, check with your health care provider.
Strength and balance activities help you to:
keep muscles and bones strong
reduce bone loss
improve balance and posture
When you maintain your strength and balance through regular activities, you:
are less likely to fall or injure yourself
will find it easier to climb stairs, carry groceries and open jars
are able to get around safely and independently
Endurance activities help you to:
increase energy and keep you moving for longer periods
maintain a healthy heart, lungs and circulation
Flexibility activities help you to:
tie your shoes
clip your toenails
get in and out of the tub
What to do if you fall
Try not to panic and rest for a moment.
If you can get up
Roll onto your side. Push up into a sitting position.
Turn onto your hands and knees. Crawl to the nearest piece of stable furniture (e.g. bed, chair, stool, toilet).
Place your hands on the seat.

Place one foot flat on the floor.
Lean forward and push up with your other foot.
Sit, rest, then tell someone you have fallen.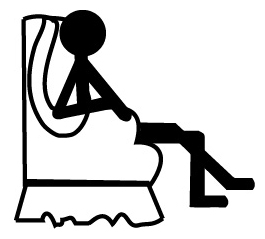 If you are injured
Do not try to get up
Get help: Drag yourself to a phone. Call 911 and stay on the line.
Keep warm: Use anything that is near: bedding, a coat, even a tablecloth.
If you are wet: If your bladder "lets go" in the fall, move away from the damp area to keep warm.
Move your limbs: Gently moving your arms and legs will help your circulation and reduce pressure areas.
Be prepared
practice getting up before a fall occurs
activate your personal alarm call system if you fall
have your phone at table level for easier access
find a daily telephone buddy
---
This item was last modified on July 5, 2017