Comprehensive workplace health promotion approach
Comprehensive workplace health promotion is "an approach to protecting and enhancing the health of employees that relies and builds upon the efforts of employers to create a supportive management culture and upon the efforts of employees to care for their own wellbeing." (Martin Shain & H. Suurvali, (2001).
It's the best approach for creating a healthier workplace because it will help you provide a sustainable program of activities that reflect the needs and priorities of employees and the organization.
3 factors that influence the health of employees and the workplace
The most effective workplace health programs address all 3 factors:
occupational health and safety
personal health practices
organizational culture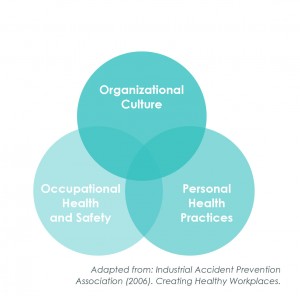 Occupational health and safety
Addresses physical conditions or circumstances in the workplace that affect employee health.
The initiatives under this section are designed to decrease work-related injury, illness, and disability.
Examples of some occupational health and safety concerns are: ergonomics, air quality, noise and lighting conditions.
Personal health practices
Addresses aspects of a person's lifestyle that affects health.
Initiatives under this section are designed to encourage and support healthy lifestyles, behaviours, and coping skills.
These initiatives need to be based upon the employee needs and interests.
Examples of some of the health related topics to be addressed are: physical activity, healthy eating, stress management, sun safety, and reproductive health.
Organizational culture
Addresses the design of work, including hours, responsibilities, relations with supervisors, and workers sense of control over their workloads etc.
The initiatives in this section are designed to create a healthy supportive work environment and also function as a means of communication and feedback between management and employees.
Examples of issues to consider but not limited to include: job training and education opportunities, open communication, encouragement and support for creativity, leadership style, management practices, employee autonomy and control, social support, sense of fairness.
Effective health promotion strategies:
In addition to addressing the factors that influence employee and workplace health, your comprehensive workplace health plan needs to include strategies.
Awareness raising
Provide information about the benefits of making healthy choices (use posters, pamphlets, fact sheets, books, paycheck inserts, bulletin boards).
Education and skill building
Provide educational opportunities for all employees on healthy living behaviours for each chosen health-related topic (for example, bring in guest speakers, host conferences or workshops, and provide vidoes).
Supportive environments
Provide support to encourage employees to practice healthy living behaviours (for example, install bike racks, adopt flexible work schedules, offer healthy food choices in vending machines and start walking programs.
Policy development
Provide written policies to support and sustain healthy living (for example, include policies about smoking, scents or a rebate for fitness memberships).
Written policies demonstrate the employer's intent to protect and promote the health of all employees by providing as healthy a work environment as possible.
The workplace health matrix
The matrix illustrates the connections between the health promotion strategies you could use and the factors that influence employee and workplace health.
| Physical Activity | Factor, Occupational Health and Safety | Factor, Personal Health Practices | Factor, Organizational Culture |
| --- | --- | --- | --- |
| Strategy, Awareness Raising | Raise awareness about the need to wear proper equipment to prevent injuries. | Raise awareness via the newsletter about the benefits of being physically active. | Raise awareness about the importance of providing input to management. |
| Strategy, Educational and Skill Building | Offer training on how to use equipment for physical activity. | Assist employees to set small, realistic physical activity goals. | Provide information on the best ways to give feedback to management. |
| Strategy, Supportive Environments | Provide an opportunity to learn about the use of proper equipment for physical activity. | Provide fitness facilities in the workplace or money gift cards for running shoes, equipment. | Provide transportation to and from physical activity facilities. |
| Strategy, Guidelines or Policies | Regarding the use of any physical activity equipment or re: physical activities. | All employees have flextime to do physical activity during the lunch hour. | Create policies that allow employees a certain amount of work time each year to pursue physical activity. |
Resources
For more information
Contact the Workplace Health Team at 705.522.9200, ext. 290 (toll-free 1.866.522.9200 FREE) or email workplaceteam@sdhu.com.
---
This item was last modified on April 30, 2020