COVID-19 in Sudbury & districts: Your weekly update August 26, 2021
Issued: Thursday, August 26, 2021
Reporting period: Thursday, August 19, 2021, to Wednesday, August 25, 2021.
August 26, 2021 — The following is a summary of how the status of COVID-19 has changed in Public Health Sudbury & Districts' service area over the last seven days up to end of day August 25, 2021: 35 new cases were reported and 16 cases were resolved. To date, 19 of the 35 cases had a mutation profile that is commonly associated with a COVID-19 variant of concern (VOC). There were two active COVID-19 outbreaks this week. There were no COVID-related deaths. At end of day August 25, 2021, there were 44 active cases in our service area and 2 active outbreaks. There were 3 local cases in hospital, while the rest were self-isolating.
Since the beginning of the COVID-19 pandemic, there have been a total of 2 265 local cases of which 2 221 are resolved, and 31 people have died in our service area. One thousand and fifty-six (1 056) were confirmed or presumed to be COVID-19 variants of concern (VOC).
Of the 173 local cases of COVID-19 reported since June 1, 2021, just 10 cases (6%) have been among vaccinated individuals. There have been 144 cases (83%) in unvaccinated residents, while 19 (11%) have occurred among those who have received one dose.  During that same period, there have been 7 local hospitalizations, all of which have been among those who are unvaccinated (5 cases; 71%) or partially vaccinated (2 cases; 29%).
Trends in the past seven days
Of the 35 new cases in our service area, 11 were a close contact of confirmed case, while 3 were linked to an outbreak. This means that Public Health identified how these people were exposed to COVID-19 and was able to take quick action to prevent further spread. Five (5) cases were travel-related, 9 had no known epidemiological link, while 7 cases remain under investigation.
Thirty-three (33) cases reported this week reside in Greater Sudbury, while 1 case resides in Sudbury East and 1 resides in Manitoulin District.
Between August 19 and August 25, Public Health identified 245 people as having had high-risk close contact with a case of COVID-19. This represents an average of 7.0 high-risk close contacts per local case reported in the past 7 days, compared to 3.1 high-risk close contacts per case reported last week. Public Health follows up directly and regularly with every high-risk close contact to monitor them for symptoms, ensure they are self-isolating (usually not required if fully vaccinated), and make recommendations for testing according to provincial guidance.
The seven-day incidence rate was 17.6 new cases per 100 000 population, compared to 13.1 cases per 100 000 in the previous 7 days.
The percent positivity was 1.6% for the period of August 18 to August 24, compared to 0.71% for the previous 7 days.
For the period of August 18 to August 24, the effective reproductive number (Rt) was 1.24 for Northern Ontario, and 1.16 for Ontario overall.
Vaccination Program Update
To date, a total of 279 653 doses of COVID-19 vaccinations have been administered to residents in Sudbury and districts. Thus far, 145 994 people have received their first dose of vaccine, and 133 659 people have been fully vaccinated (current as of 4 p.m. August 25, 2021). Note, this includes vaccines administered by Public Health, First Nation and Indigenous communities, primary care partners, and pharmacies.
Over the last 7 days up to end of day August 25, 2021, a total of 3 044 vaccine doses were administered.
Overall, 83.1% of Sudbury and districts residents aged 12+ have received their first dose of a vaccine, compared to 82.6% for all Ontario residents aged 12+.
Second doses have been received by 76.1% of those aged 12+ in Sudbury and districts compared to 75.5% of Ontarians of the same age.
The following is a depiction of vaccinations received by age for individuals 12+ in Sudbury and districts.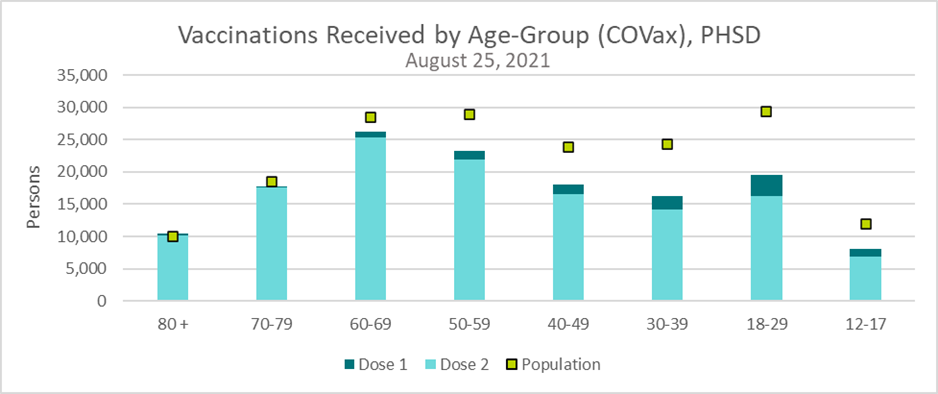 * Rates are based on 2020 population estimates from the Ministry of Finance to match provincial coverage calculations.
| Age Group | Dose 1 % Coverage | Dose 2 % Coverage |
| --- | --- | --- |
| 80 + | 100.0% | 100.0% |
| 70-79 | 96.0% | 94.9% |
| 60-69 | 92.1% | 89.1% |
| 50-59 | 80.1% | 75.7% |
| 40-49 | 75.6% | 69.1% |
| 30-39 | 67.0% | 58.4% |
| 18-29 | 66.3% | 55.1% |
| 12-17 | 68.1% | 57.4% |
Stay COVID-safe
With the new school year quickly approaching, youth born in 2009 and earlier, those who are or who will turn 12 during the 2021 calendar year, should complete their COVID-19 vaccine series as soon as possible for protection against COVID-19 and the Delta variant. Remember, the vaccine requires two weeks to take effect. Individuals are only considered fully vaccinated two weeks after their second dose.
A third dose of the COVID-19 vaccine is now recommended for select vulnerable populations. Eligible individuals will be informed when and where they can receive their third dose. A third dose is not needed for the general population, however, to help protect our vulnerable population, it is very important that friends, family, and caregivers of these individuals be fully vaccinated with two doses. This will help create a "ring of protection" for those who are more vulnerable. Learn more about clinics.
Some youth may be coping with the stress of COVID-19 by vaping. Youth are especially vulnerable to the negative effects of nicotine, including addiction, and this can alter their brain development. Health Canada suggests building a supportive relationship and having an open and caring conversation with youth can help them stop.
The next few weeks are sure to be exciting, especially for college and university students! As you move into residence remember to check out your school's vaccination policy and website for a check list of what to bring and to learn of any safety measures. Continue to practise personal protective measures, such as wearing a mask, physical distancing, washing your hands, and getting vaccinated.
What's new
Public Health Sudbury & Districts will now include a summary of reported cases in its Weekly Update which includes the vaccination status of those cases. The goal of providing this information is to keep our communities informed and maintain transparency, while protecting personal health information.
The Government of Ontario is continuing its last mile strategy to reach eligible individuals who have yet to receive their first or second dose, including focusing on smaller, community-based and easy-to-access settings for vaccinations. For more information, read the full news release on news.ontario.ca.
Message from Dr. Penny Sutcliffe, Medical Officer of Health
With the new school year just around the corner, I know many are anxious to see how the year will go with the COVID-19 situation. The best thing we can all do right now to help kids stay in the classroom is to get vaccinated if you are eligible. We continue to offer clinic options almost every day across our service area, including some regularly scheduled walk-in clinics during the week. Additionally, we are working with the Ontario government and publicly funded school boards to run clinics in or nearby schools to make vaccines even more convenient and accessible for eligible students, their families, educators, and school staff returning to school this fall. By rolling up our sleeves we are not only helping our school system, we are also helping to reduce the burden on our health care system. As we navigate a fourth wave of this pandemic along with the rest of the province, I ask you once again to be patient and do your part to help keep our communities healthy.
Regular updates
Visit phsd.ca/COVID-19/data for regular updates about COVID-19 testing, confirmed cases, as well as outbreaks and potential exposures in Greater Sudbury, the Sudbury District, and the Manitoulin District. In addition, a detailed epidemiology summary is posted on Monday that includes information about cases over time, case characteristics, probable exposures, case outcomes, testing, and outbreaks in facilities.
For more information or if you have questions, please visit phsd.ca/COVID-19 or call Public Health Sudbury & Districts at 705.522.9200 (toll-free 1.866.522.9200).