Join Us
Join us if you want to become a part of a progressive public health agency that is committed to improving health and reducing social inequities in health through evidence-informed practice.
With a head office in Greater Sudbury and five offices throughout Greater Sudbury and the districts of Sudbury and Manitoulin, we have over 250 staff who deliver provincially legislated public health programs and services (Ontario Ministry of Health).
Current opportunities:
Interviews
We thank all applicants for their interest; however, we will contact only those selected for interviews. Public Health Sudbury & Districts is an equal opportunity employer.
Collection of information
All information is collected solely for the purposes of job selection under the provisions of the Municipal Freedom of Information and Protection of Privacy Act.
Accommodation
Public Health Sudbury & Districts is committed to an inclusive and barrier-free selection process. If you require accommodation, please notify us and we will work with you to meet your needs. To request information in an alternate format, please contact Recruitment (705.522.9200, ext. 570, toll-free 1.866.522.9200).
Pre-employment requirements
All employees, volunteers, students, and contractors at Public Health Sudbury & Districts are required to comply with the agency's Worker Vaccination and Serological Protection Against Vaccine Preventable Diseases Policy and Information Sheet (PDF, 848 KB).
All Public Health Sudbury & Districts' employees are required to complete the Worker Health and Safety Awareness in 4 Steps (Government of Ontario) and provide proof of completion prior to start date.
Thank you for your interest in working with Public Health Sudbury & Districts.
Leadership, partnerships and innovation
We are governed by an autonomous Board of Health and have strong community and inter-agency partnerships, for example, with NOSM University and Laurentian University. Our enriched public health practice environment fosters research, ongoing education, and the development of innovative programs and services.
Living Wage Employer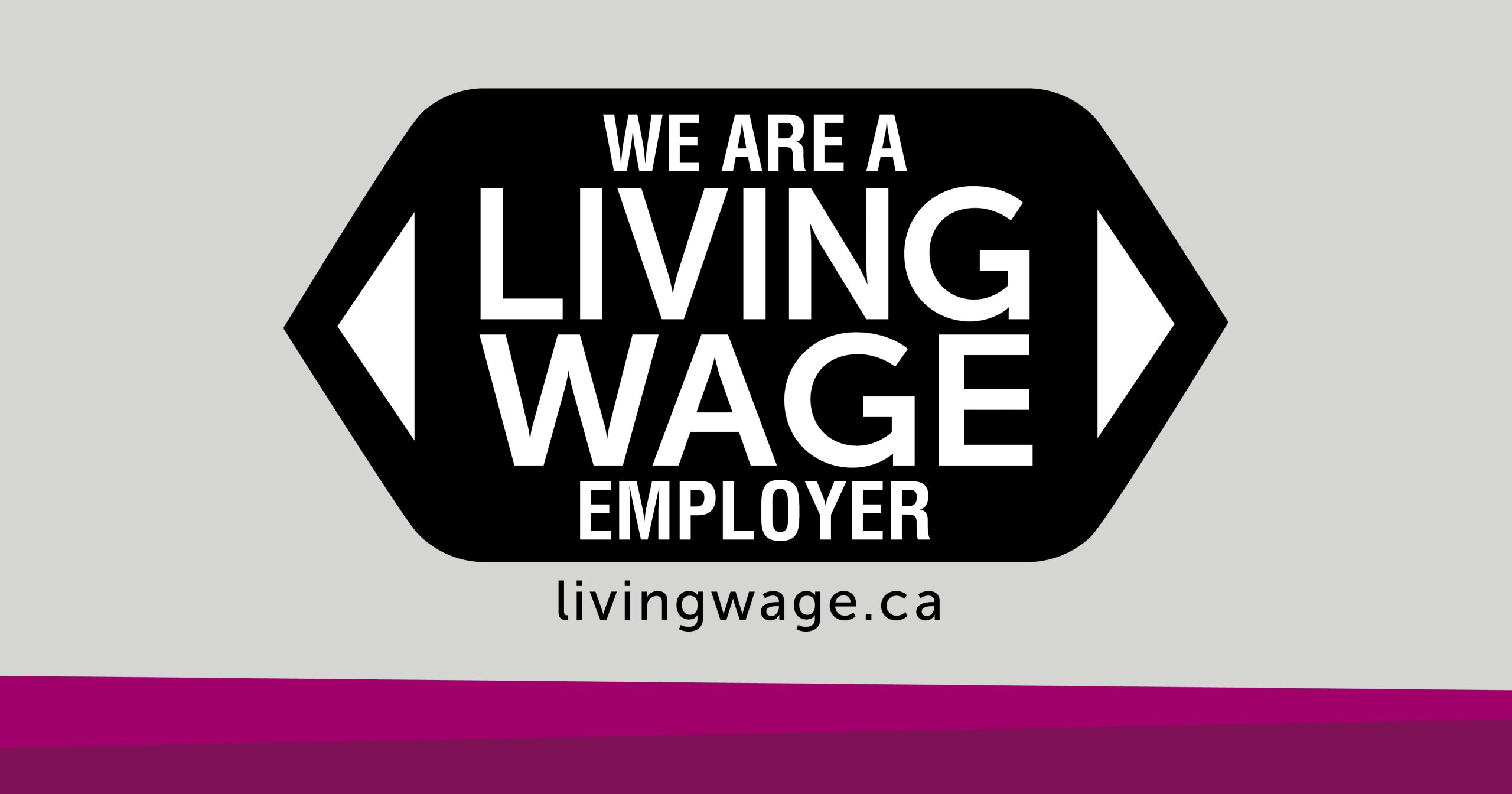 Since we are a certified Living Wage Employer, all Public Health Sudbury & Districts staff members qualify for a living wage. Providing a living wage promotes financial security and supports ongoing education and skill development for our employees. Overall, a living wage contributes to building prosperous and healthy communities within our districts.
Our service area
We serve a population of 192 391 from our head office in Greater Sudbury and several offices throughout our service area—including Chapleau, Espanola, Manitoulin Island and St. Charles. With an area of approximately 46 500 square kilometres—roughly the size of Denmark—our service area is the fourth largest of all health units in Ontario. Greater Sudbury is home to the majority of the population: 157 909 residents.
About Greater Sudbury:
Known as the "City of Lakes", Greater Sudbury has 330 lakes within its municipal boundaries, two of which are only a short walk away from our main office.
26% of the population identifies French as their mother tongue.
It's all about "cool science" at Science North, Northern Ontario's most popular tourist attraction.
The Greater Sudbury Public Library has 13 branches.
Health Sciences North makes Sudbury the main provider of health services in northeastern Ontario.
Greater Sudbury is the largest municipality in Ontario based on total area.
Greater Sudbury has evolved from a late 19th century rail outpost to a vibrant multicultural city that has established itself as northeastern Ontario's major centre for tourism, health care and research, shopping, technology, education, business, and government.
Toronto is less than an hour by air and a four-hour drive.
Major employers with 200+ full-time employees include Vale (mining), Health Sciences North, the Sudbury Tax Services Office, the City of Greater Sudbury, and Laurentian University.
Education
Greater Sudbury is home to English and French public and Catholic elementary and secondary schools, Laurentian University, Cambrian College, Collège Boréal, and NOSM University. The city is a centre of innovation and applied research in several fields including mining technology, specialized product development, health care, and astrophysics research.
The arts
Throughout the year, a variety of events make Greater Sudbury a cultural tourism destination. Each September tens of thousands of cinéphiles flock to Cinéfest, an international film festival that screens upwards of 140 films. Amateur theatre flourishes, while the Sudbury Theatre Centre and Le Théâtre du Nouvel-Ontario offer professional productions. Each Canada Day the Sudbury Multicultural and Folk Arts Association hosts a spectacular celebration with food from around the world. Since 1972 Northern Lights Festival Boréal has presented three days of performing and visual arts at Bell Park on the shores of Lake Ramsey. The Sudbury Symphony Orchestra performs an annual concert series and the Art Gallery of Sudbury is open year round, housed in a turn-of-the-century mansion.
Recreation
For outdoor enthusiasts, Greater Sudbury is the jumping off point for some of Canada's most beautiful destinations for sailing, kayaking, cycling, hiking, photography, skiing, and snowshoeing, and simply enjoying nature.
Whether your interest lies in cross-country skiing on a groomed trail through the northern Ontario woods, enjoying a meal at one of the city's many ethnically diverse restaurants, catching a rock concert at the Sudbury Arena, or snapping pictures that capture the rugged grandeur of the Canadian Shield, there are endless adventures to be had in Greater Sudbury.
This item was last modified on September 26, 2023