Indigenous Engagement
National Day for Truth and Reconciliation
Why is September 30 important?
Every year on September 30, we give pause and honour the National Day for Truth & Reconciliation (also known as Orange Shirt Day). It is a day dedicated to raising awareness about the past and ongoing traumatic impacts of the residential school system on Indigenous communities. Watch Dr. Penny Sutcliffe share her reflections on the significance of this day.
The federal government passed legislation this year designating September 30 as a National Day for Truth and Reconciliation to commemorate the history and legacy of residential schools in Canada. The day was originally founded as Orange Shirt Day, inspired by Phyllis Webstad who, at the age of 6, had the new orange shirt given by her grandmother taken from her on her first day at residential school.
---
Aanii! Wachay! Bonjour! Greetings and welcome!
Public Health Sudbury & Districts is committed to building meaningful relationships with Indigenous communities in its service area. As part of this commitment and under the direction of the Board of Health, Public Health Sudbury & Districts has embarked on a journey to develop an Indigenous Engagement Strategy. This work has been conducted in consultation with many Indigenous community partners. The Board of Health's commitment to this strategy is expressed in Motion #54-16.
The strategy has been informed by the Truth and Reconciliation Commission's Calls to Action in health as well as the Ministry of Health and Long-Term Care's Relationship with Indigenous Communities Guideline, 2018.
Public Health Sudbury & Districts is striving to find its path together with area Indigenous Peoples.
About Indigenous communities within the Public Health Sudbury & Districts service area
The Public Health Sudbury & Districts catchment area is home to over 24 0003 Indigenous Peoples (13%), comprised of First Nations (North American Indians) (57%) and Métis Peoples (40%).4 A small subset of the Indigenous population identifies as Inuit or as having multiple Indigenous identities (3%).4
Anishinaabemowin (Ojibwe language) is the Indigenous language most spoken in the area.4
The Indigenous population is younger than the non-Indigenous population in Greater Sudbury, and the Sudbury and Manitoulin districts.4
Indigenous Peoples live in both urban settings and in the area's thirteen First Nation communities, with a total population of 6 3793 living on-reserve.
Five First Nations are in the Sudbury district, one in Greater Sudbury, and seven are located on or near Manitoulin Island.
First Nations in this region are signatory to Treaties 9 and Robinson Huron, and belong to one of five Tribal Councils. Wiikwemkoong First Nation remains an unceded territory.
Reference: 3 Statistics Canada, 2016 Census
Reference: 4 Registered Indian Population by Sex and Residence 2016, Indigenous and Northern Affairs Canada; and 2016 Census, Statistics Canada, 25% Sample
13 First Nations within Public Health Sudbury & Districts' service area
Each First Nation community is unique, with different demographics, needs, resources, assets, and challenges.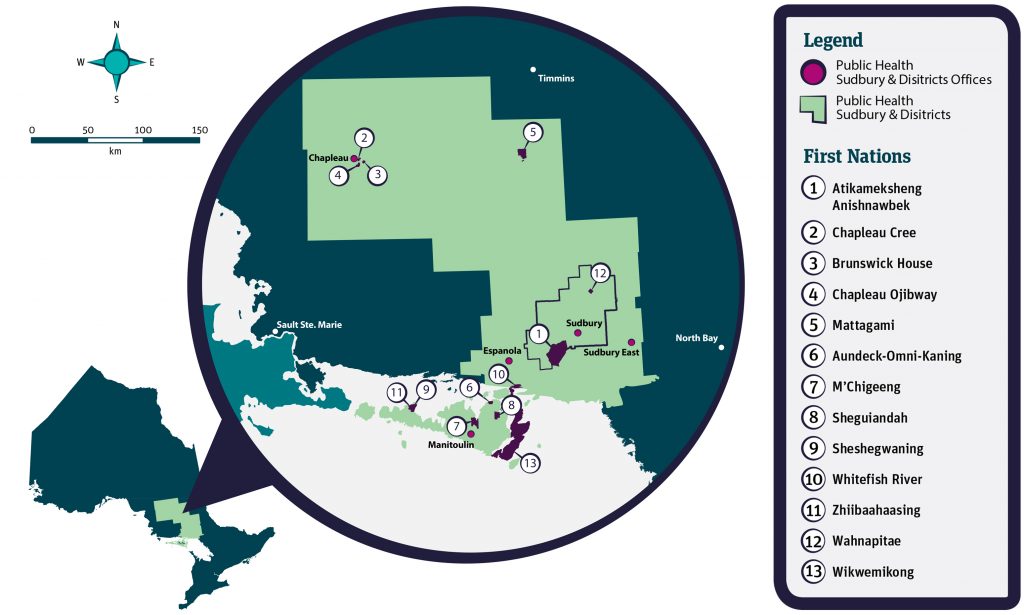 Métis groups within Public Health Sudbury & Districts service area
The Métis Nation of Ontario has an office in Sudbury serving Métis citizens in and around Greater Sudbury as well as Chapleau with whom we work.
Public Health Sudbury & Districts collaborative partnerships with Indigenous Peoples
Public Health Sudbury & Districts has many longstanding and diverse partnerships with First Nations and Indigenous health services organizations. We are engaged in information sharing, planning, education, service provision, and research.
Partnerships with Indigenous groups and communities are diverse and broad in scope. Examples include collaborating on the development of an Indigenous diabetes prevention strategy, co-creation of culturally appropriate This is my tobacco resource, the provision of dental screening, and the Northern Fruit and Vegetable Program in First Nations schools. More recently, work has begun in the areas in harm reduction, needle exchange programs and naloxone distribution in First Nations as well as mental health promotion. Promotion of good health and prevention of injury, disease, and illness brings us together as partners.
To learn more about Indigenous Engagement at Public Health Sudbury & Districts, please call 705.522.9200 (toll-free 1.866.522.9200) or email indigenousengagement@phsd.ca.
---
This item was last modified on March 31, 2023