Tobacco, Vaping, and Electronic Cigarettes
Living tobacco-free is one of the best things you can do for your health.
We provide support and services for quitting, information for youth and young adults, tobacco inspections and enforcement, and assistance with developing smoke-free policies.
Quitting smoking
STOP on the Net is an online program designed to help adults quit smoking.
If you are living in Ontario and over the age of 18, you could be eligible to receive 8 weeks of free nicotine patches and gum or lozenges in the mail.
To learn more and to enroll, please visit stoponthenet.com
​STOP on the Net is an initiative of the Smoking Treatment for Ontario Patients (STOP) Program and is funded by the Ontario Ministry of Health.
Youth and young adults
Did you know one person dies every six seconds due to tobacco use, according to the World Health Organization? Did you know that tobacco companies target youth just like you? They do this by making tobacco look cool. Even smoking in movies is done on purpose to target you.
Did you know that you can fight back? Don't be fooled. You can resist and stay smoke-free.
Get involved
Are you looking to complete your volunteer hours for high school? Maybe you just like volunteering. If you are between 10 and 24 years old, join our Youth Group. Give meaningful input and take action on health issues like tobacco. Whether you smoke or not, we want you!
See what youth are talking about
Young people just like you are getting involved. Explore the links below to see what's happening.
A smoke-free living music video clip made by and starring local youth (Live FRESH)
A provincial campaign led by youth for youth (Freeze the Industry)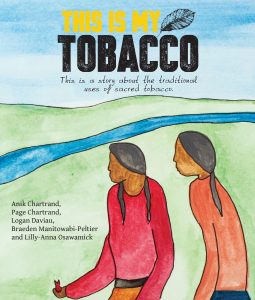 A collaboration between the Shkagamik-Kwe Health Centre and Public Health Sudbury & Districts, This is My Tobacco aims to educate youth and community about the traditional uses of sacred tobacco.
Learning about the importance of sacred tobacco can help people make better choices. For example, respecting the use of sacred tobacco may help prevent people from starting to smoke cigarettes.
We would like to thank our elder, Hilda Nadjiwan, for her inspirational teachings and beautiful prayer. Gratitude is also extended to youth authors and illustrators.
To order a copy, contact:
Ryan Taggart, Director of Operations
Shkagamik-Kwe Health Centre
rytaggart@skhc.ca
705.675.1596
Quitting smoking
Are you a young person who wants to quit smoking? There is information and support specifically for you.
Inspections and enforcing the Smoke-Free Ontario Act, 2017
Public Health Sudbury & Districts plays an important role in enforcing the Smoke-Free Ontario Act, 2017 (Government of Ontario).
Check Before You Go! Inspection and enforcement information
For inspection and enforcement information, visit Check Before You Go! or call 705.522.9200 (toll-free 1.866.522.9200). Check Before You Go! has information about required and follow-up inspections, infractions, convictions, and orders imposed by Public Health Sudbury & Districts.
You can find information related to:
food premises
licensed child care settings
personal services settings
public beaches
public pools, spas, and splash pads
recreational camps
small drinking water systems
tobacco and electronic cigarette vendors
Operators and retailers
Public Health Sudbury & Districts is responsible for preventing tobacco sales to minors and ensuring legislation is followed. Discover how the Smoke-Free Ontario Act, 2017 (Government of Ontario) applies to your store or business. The Ministry of Health has developed factsheets with more information on how the Act affects you!
Smoke-free spaces
Interested in creating smoke-free policies? We have information that can help you.
Employers and workplaces
All enclosed workplaces are smoke-free.
We provide quitting support and assistance with smoke-free policy development and the law.
Health professionals
Help your clients quit smoking.
To learn more about how to quit smoking and the resources available, contact 705.522.9200, ext. 3433 (toll-free 1.866.522.9200, ext. 3433).
---
This item was last modified on February 3, 2023