Visual identity standards for external users
Logo usage
Logo free space
To maximize logo impact, the logo should be surrounded by free space (see example below). The larger the free space around the logo, the greater the visual impact. As a rule, leave at least "2x" of free space around all edges of the logo; wherein "x" is the height of the circle in the brandmark.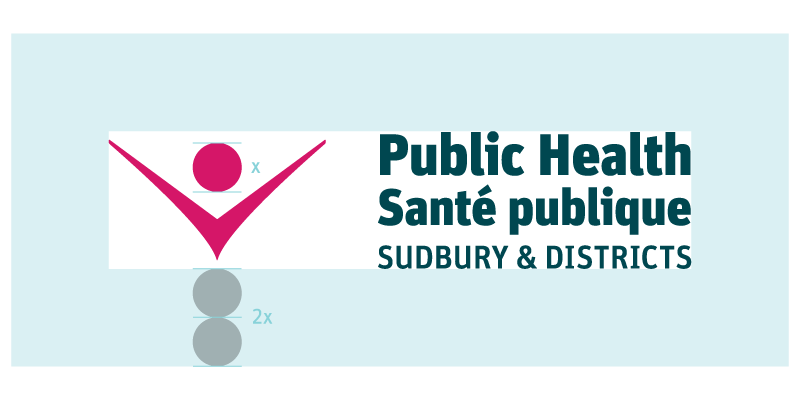 Minimum size
In order to ensure legibility and recognition of the logo, the logo should be at least 0.5" high.
Logo variations
The logo is available in the following four colour variations.
Whenever possible, use the two-colour logo; this is the preferred version. Use the two-colour logo on white or light gray backgrounds, or photos. Avoid using this logo on background colours like green or orange; as the brandmark's visual impact will be affected.
When a one-colour logo is required, use the one-colour (PMS 316) or white logo, depending on the background colour. Use the one-colour logo on white or light-coloured backgrounds or photos that provide sufficient contrast. Use the white (reverse) logo on dark-coloured backgrounds or photos.
The black logo should only ever be used where only black ink can be used (laser printer, newspaper, fax cover sheet, or photocopier).
Using our logo properly
Our logo has been carefully designed and should never be altered in any way. We've outlined some examples of what NOT to do when working with our logo. Do not:
distort the logo
change the wordmark
use the wordmark without the brandmark
rotate or skew the logo
alter the position of the wordmark relative to the brandmark
change proportions of brandmark relative to the wordmark
alter the colour or solid state of the colour of the logo
Corporate colours and colour palettes
Corporate colours
Primary colour palette
Secondary colour palette
Typography
FF Unit is the corporate font family, with two different weights being used in the corporate logo; FF Unit Black and FF Unit Medium (pictured below).
---
Disclaimer
Seulement disponible en anglais.
The corporate logo is the property of Public Health Sudbury & Districts. Use of the logo by other organizations must be authorized by Public Health Sudbury & Districts and the standards for application must be applied at all times.
If you have questions, please email Communications at communications@phsd.ca or call 705.522.9200, ext. 484.
---
This item was last modified on April 10, 2019