Elections: Health matters
Get informed. Get involved. Go vote.
When you vote, you register your opinion on how you think the government should operate. It's your right. Voters consistently rate health care as a top concern and the public health system is a powerful resource to help increase health opportunities for everyone in the community.
Voters: What to consider
Governments play an important role in shaping policies that impact all aspects of our lives, including our health. Public Health Sudbury & Districts aims to highlight several key public health issues for candidates and voters to consider during an election cycle. We are counting on you to make health matter in your election journey and beyond.
Decide how you will vote by:
Visiting the websites of political parties and independent candidates to better understand their platform and promises.
Comparing your ideas and values with those of political candidates. Find out which platform you most identify with.
Asking questions to political candidates who come to your door or reach out to politicians by email and social media or at public debates.
Ask electoral candidates about the positions and issues that most impact your life and that of your community.
Browse this section to learn about how you can get informed, get involved, and go vote.
Mental health
Get informed.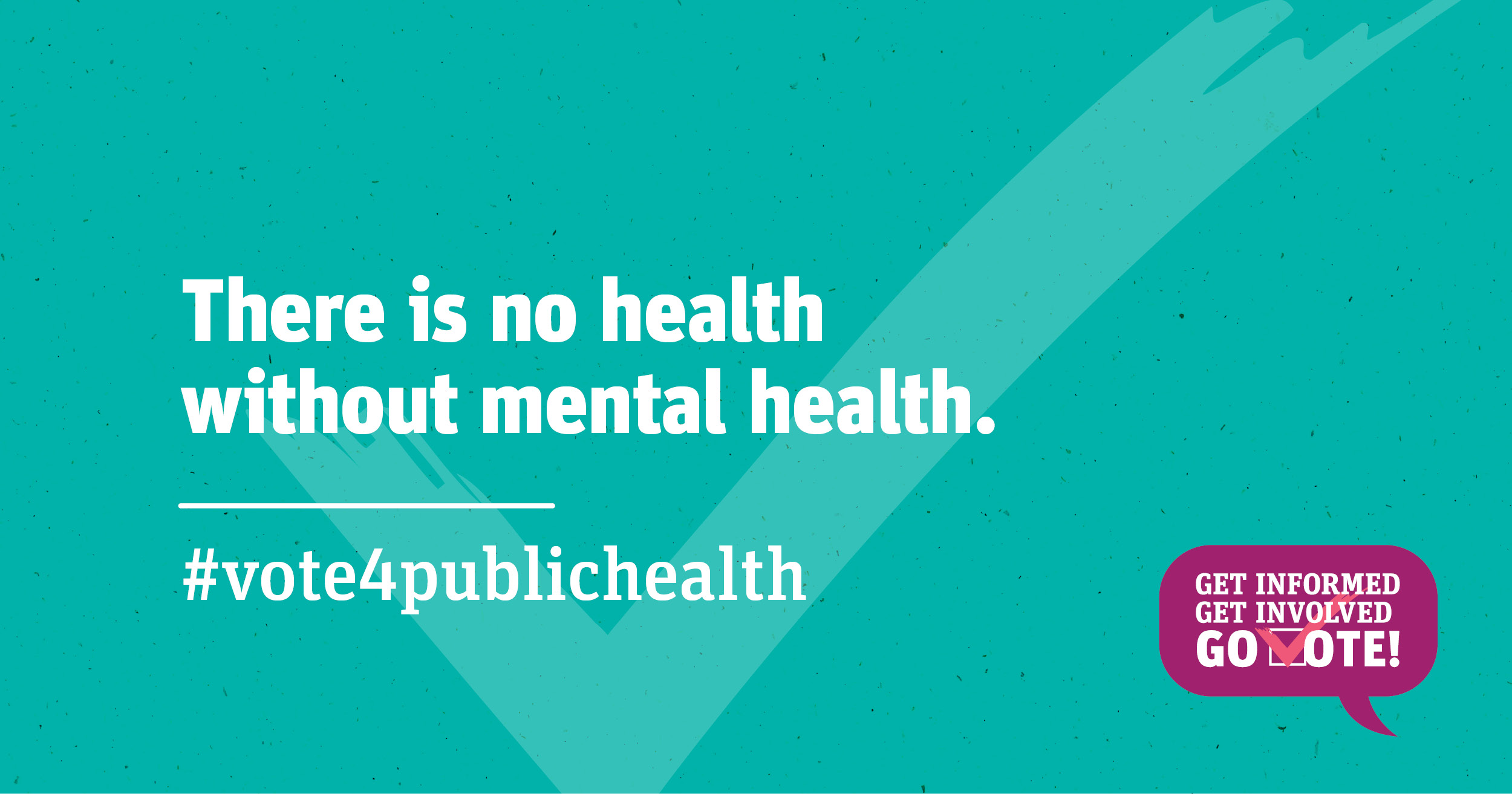 Just like physical health, mental health and well-being are influenced by the social, economic, and physical environments in which people work, live, and play. Populations with socio-economic disadvantages are disproportionately affected by mental health problems and challenges. There is no health without mental health.
Mental well-being is a concern with an increasing percentage of Ontarians who report their mental health as fair or poor, and who have experienced mental health challenges or illnesses, especially since the pandemic began. Almost half of Ontarians believe that COVID-19 played a major role in worsening of their mental health.1
Key recommendations:
 Promote infant, child, and youth mental health through public health programming including school health, healthy families, and healthy communities while increasing access to services and decreasing wait times.
Support strategies that target the social determinants of mental health across the lifespan of individuals, with a focus on reducing stigma and increasing inclusion and support.
Food insecurity
Get informed.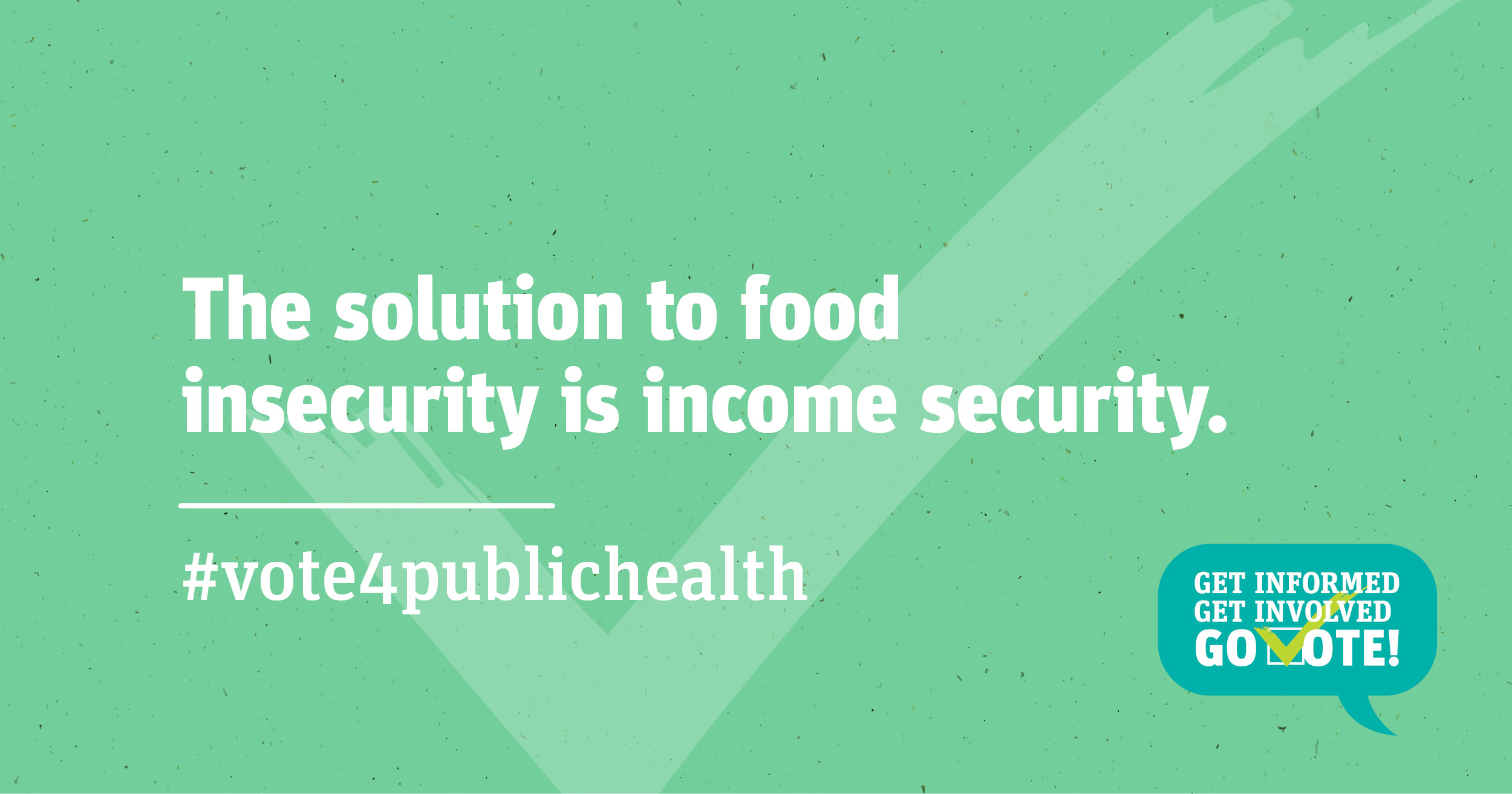 Not having enough money to buy food and other necessities affects about 13% of households in Ontario.2 Current unprecedented levels of inflation will make household food insecurity worse.3
The risk of food insecurity varies by different household characteristics. Food insecurity is most prevalent among households with low incomes, female single-parent families, those who rent rather than own their housing, and those who identify as Indigenous or Black.4
Food insecurity is a serious public health problem. Adults in food insecure households are more likely to suffer from chronic conditions such as diabetes, high blood pressure, and anxiety. Children in these households are more likely to suffer from mental health problems, and teenagers are at greater risk of depression, social anxiety, and suicide. Food insecurity costs the health care system as adults living in food-insecure households have much higher health care costs compared to those living in food-secure households.5
The solution to food insecurity is income security.
Key recommendations:
Implement policy interventions that reduce income inequalities, such as a basic income guarantee, a living wage, and social assistance rates that are geared to the cost of living so that everyone has the money they need for basic needs, including food.
Paid sick-days
Get informed.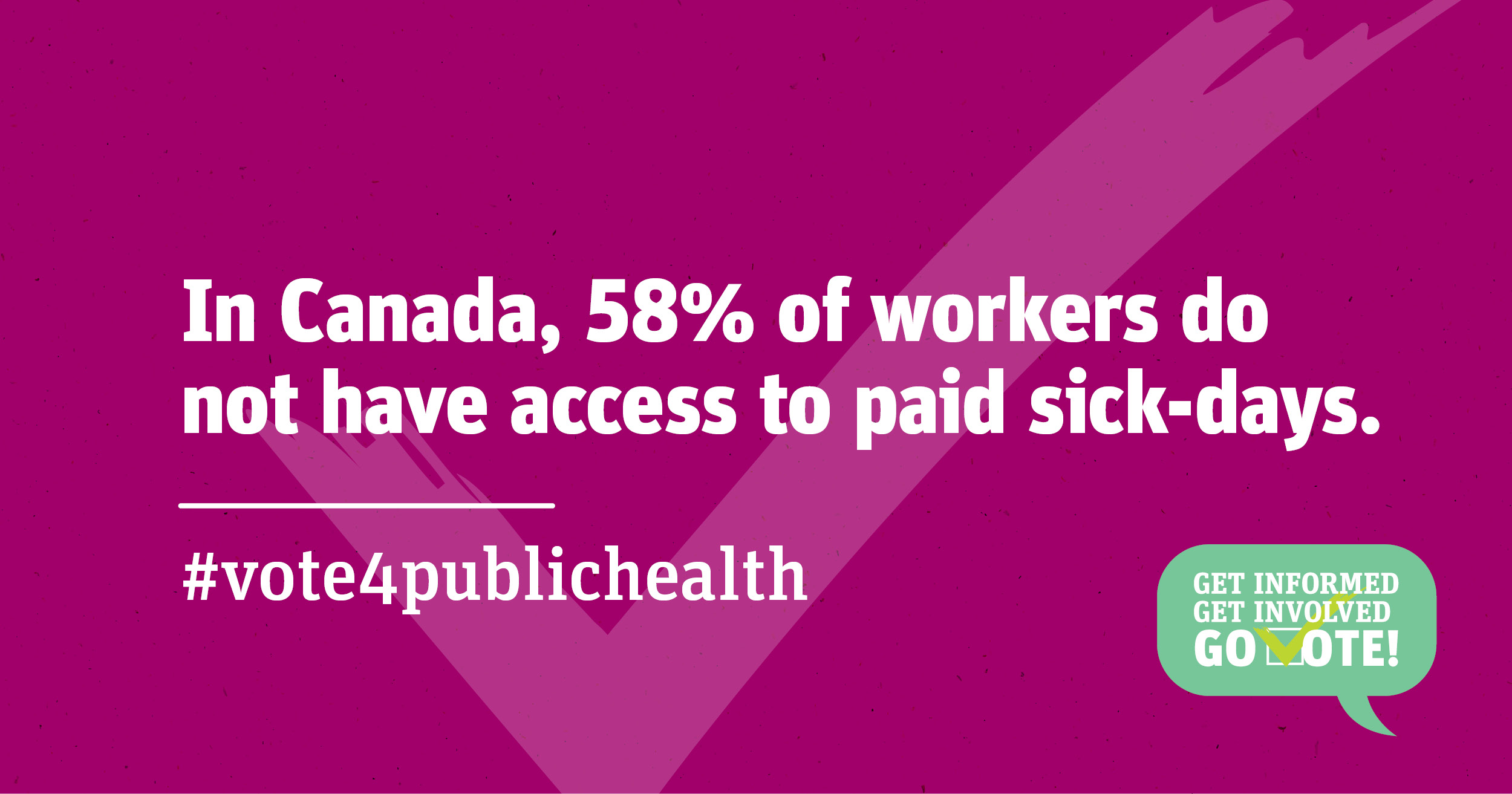 Inequitable access to paid sick-days in Canada has significant impacts on income and health. Paid sick-leave provisions are essential to protect the health of individual workers, their workplaces, and the broader community. This has become even more evident with the COVID-19 pandemic.6
In Canada, 58% of all workers and over 70% of workers earning less than $25,000 do not have access to paid sick-days. As a result, these workers must choose between losing income or going to work while sick. A paid sick-day policy is essential to protect individuals, workplaces, and community health. Women, low-wage and precarious workers, and racialized communities are most impacted by a lack of paid sick-days.7
The Government of Ontario's paid sick-leave program provides three paid sick-days to employees and has recently been extended to July 31, 2022. Evidence indicates to be effective, paid sick-days must be universal, permanent, and provide at least seven paid sick-days.8
Key recommendations:
Implement a paid sick-day policy that is permanent, universally accessible to all workers, is paid at 100% of a worker's wage, and provides at least seven paid sick-days.
Housing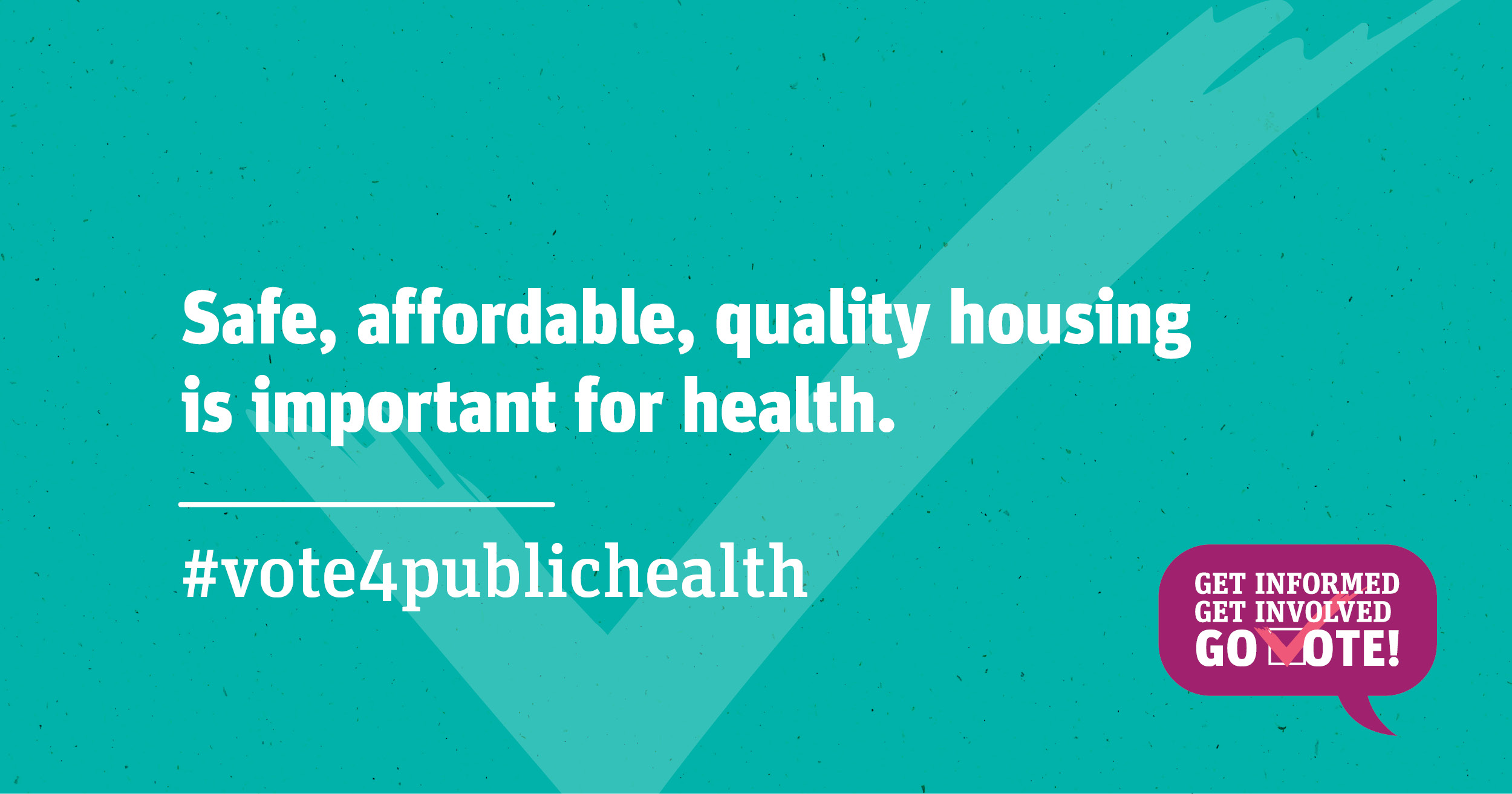 Safe, affordable, quality housing is important for health, well-being, and inclusion.9
Affordable housing means having enough money after paying for housing to spend on other necessities like healthy food, transportation, child care, and other basic needs.10
In 2018, more than 1.6 million Canadian households were spending more than 30% of their before-tax income on housing.11
The rental vacancy rate in Greater Sudbury fell in 2021 to its lowest in 10 years at 1.8%, driving the cost of rental accommodation up 8.4% for a two-bedroom unit.12
In 2021, almost 70% of those who were homeless in Sudbury said that high rents were preventing them from being housed.13
Key recommendations:
Develop a strategy to ensure affordable, accessible, and supportive housing, including an Indigenous-led housing strategy and housing supports for older adults and for all living in Sudbury and districts.
Indigenous health and well-being
Get informed.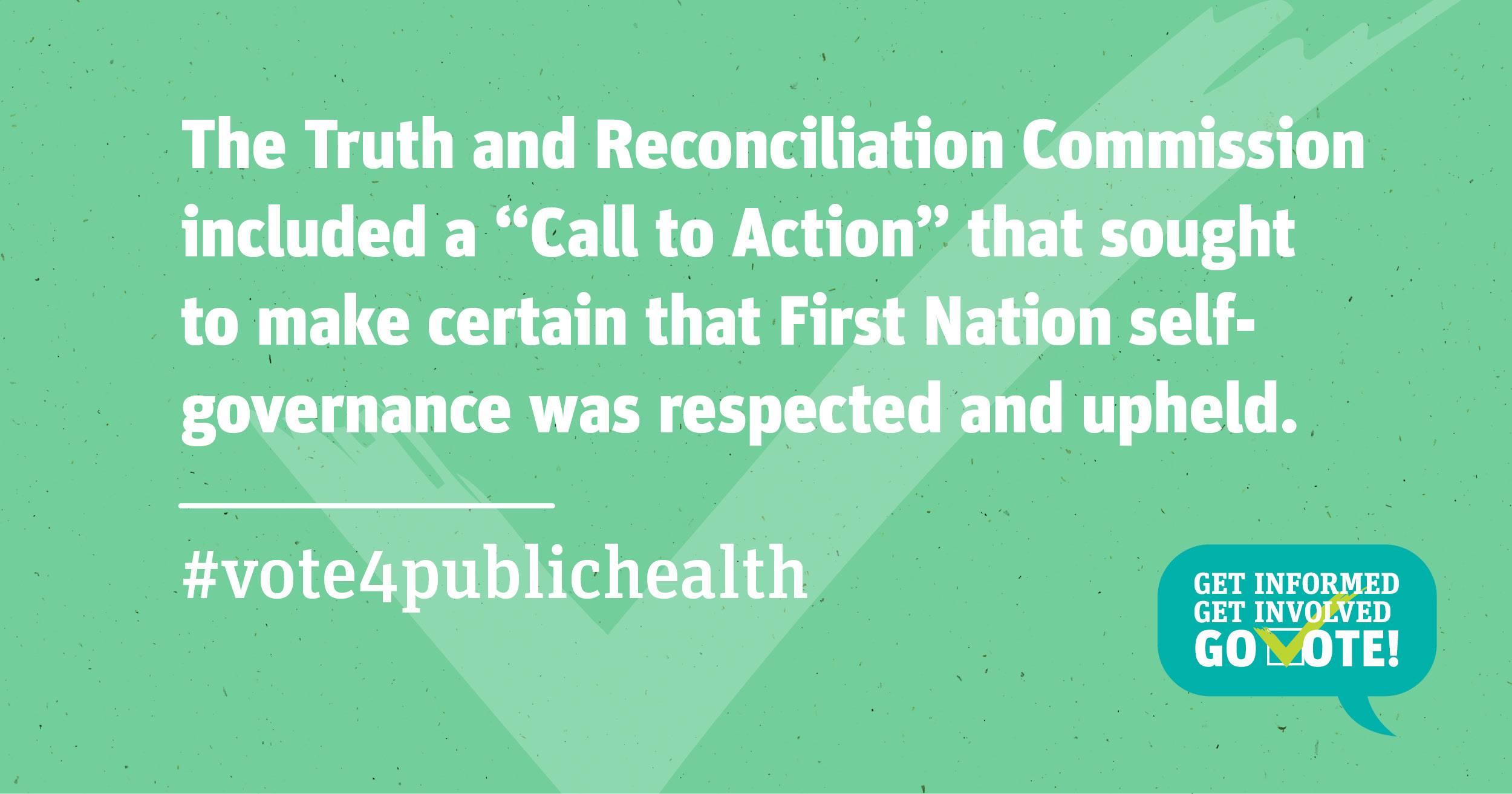 Respect First Nation self-governance by ensuring their public health needs, as determined by communities, are met.
Uphold and implement health and well-being responsibilities under the Truth and Reconciliation Commission: Calls to Action (for example, honour the treaties with First Nations and uphold governmental responsibilities to each treaty).
Key recommendations:
Ensure sustainable funding, the transfer of necessary resources as well as authority for self-determination and control of public health programming and services across the province to First Nations and urban and rural Indigenous communities and organizations (adapted from Registered Nurses' Association of Ontario recommendation).
Anti-racism
Get informed.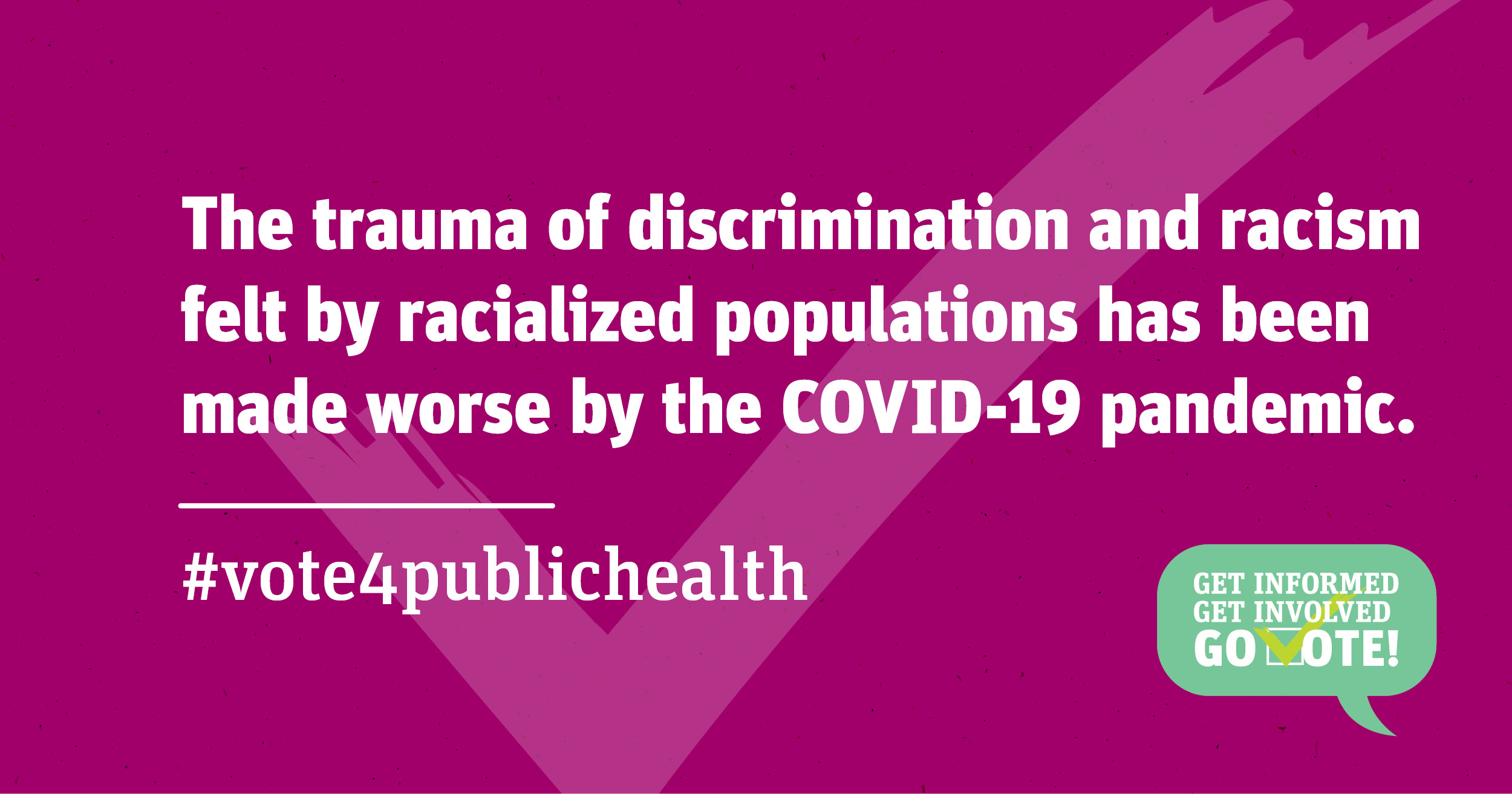 Discrimination is commonly experienced by racialized groups in Canada. Although it may be more common among Black or First Nations people, it is increasing among those who are Chinese or South Asian. Moreover, the trauma of discrimination and racism felt by racialized populations has been intensified by events like the COVID-19 pandemic and demonstrations involving acts and symbols of hate, bigotry, racism, antisemitism, and discrimination.
Systemic racism and discrimination have resulted in the unequal distribution of resources, including income, education, employment, housing, and health care, impacting the mental and physical health of racialized populations. Despite an increased awareness of the effects of systemic racism, concrete progress is needed to make Canadian communities more equitable for all.
Key recommendations:
 Ensure sustainable funding and commitment to advance a provincial anti-racism strategic plan and ensure anti-racism initiatives are informed and led by racialized populations.
Encourage the creation of inclusive community spaces for all in Northern Ontario.
Ensure that hate crimes are clearly defined and result in appropriate consequences.
Opioids
Get informed.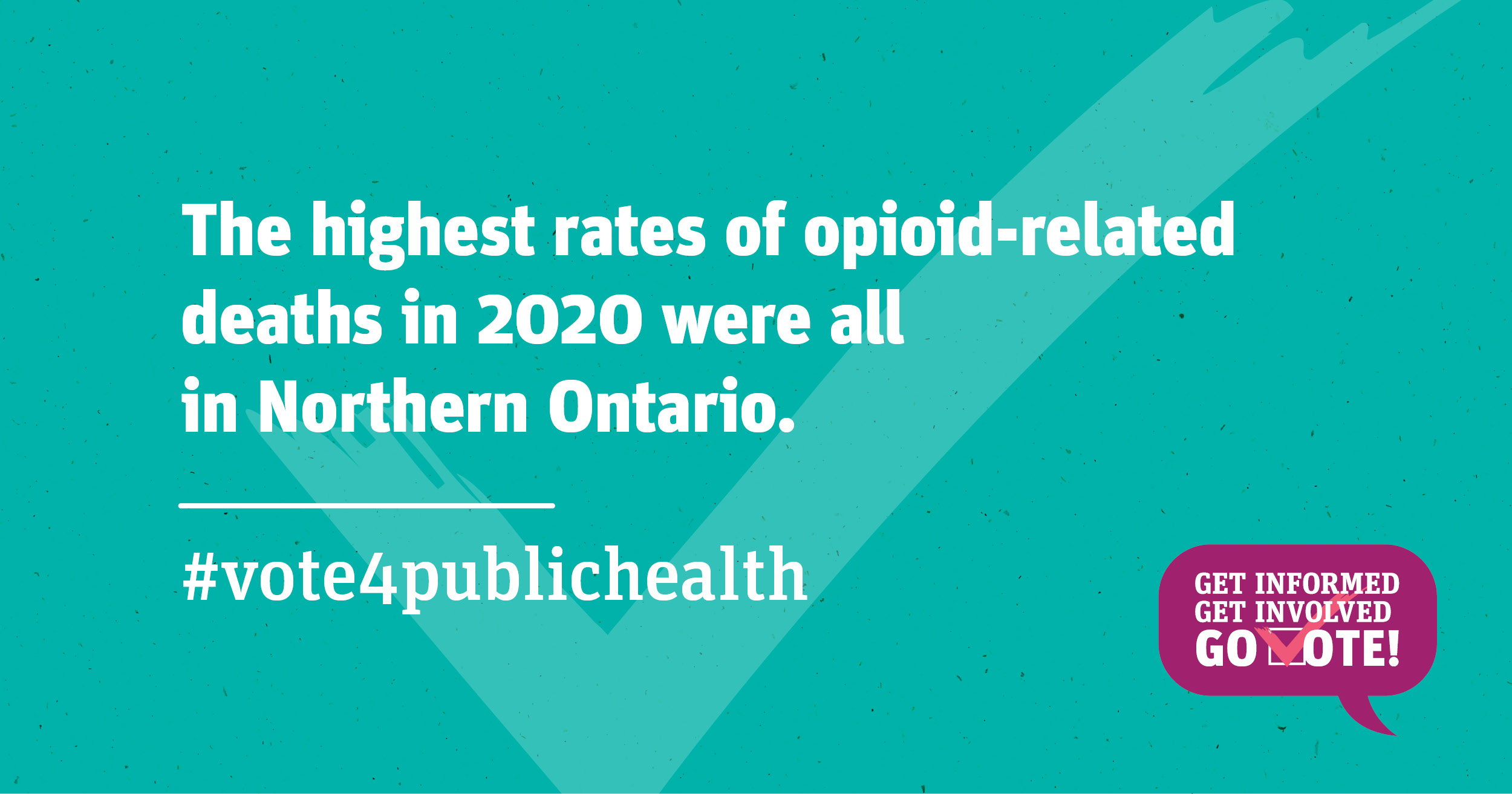 The pandemic has heightened the disparities across communities and has disproportionately affected people who use substances. Many social determinants of health, such as poverty, housing problems, occupational issues, trauma and racism, as well as social and physical environments, can contribute to an increase in substance use. We continue to hear and see first-hand how the pandemic is affecting all communities, including people who use substances.
Northern Ontario has been particularly impacted by the opioid crisis. In statistics released by the Office of the Chief Coroner of Ontario, the health units with the five highest rates of opioid-related deaths in 2020 were all in Northern Ontario. In total, 338 residents of Northern Ontario died from an opioid-related overdose in 2020, compared to 166 in 2019. This represents an overall rate of death of 42.3 per 100 000 population in Northern Ontario as compared with 14.9% for other regions of the province.
Key recommendations:
Support proactive, comprehensive, and multi-stakeholder plans that address substance use, engaging people where they use, and providing necessary education, harm reduction supports, and treatment.
Infection prevention and control (IPAC)
Get involved.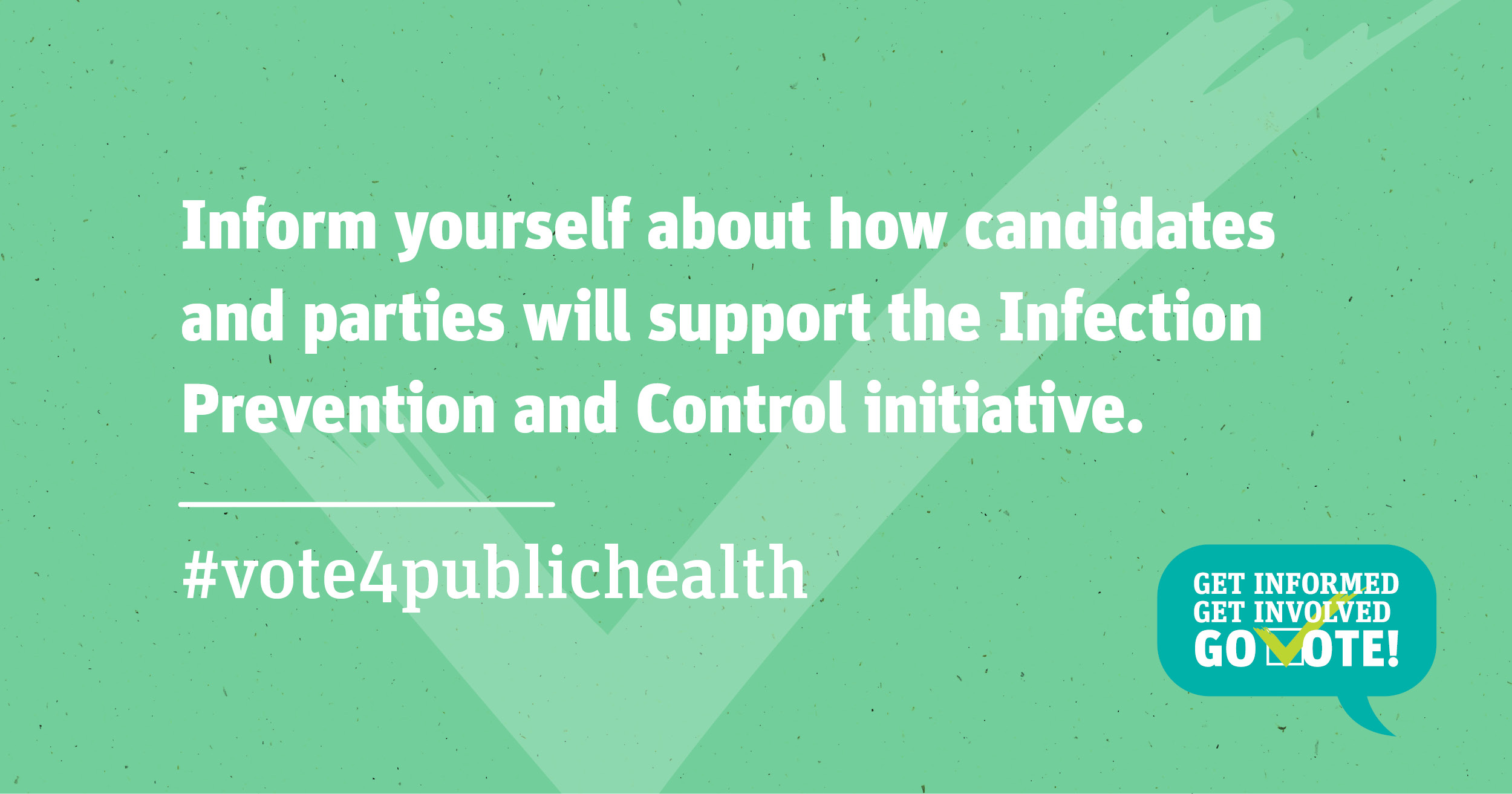 COVID-19 is just one example of an infection that has been proven to disproportionately affect outcomes of individuals who live in congregate care facilities, retirement homes and long-term care homes.
Since the beginning of the COVID-19 pandemic, almost 100 outbreaks have been declared in local congregate living settings.
The Infection Prevention and Control (IPAC) Hub model is essential to ensuring protection from infectious diseases for all residents in congregate living settings.
Key recommendations:
Support Ontario's IPAC Hub model as a sustained initiative to ensure that highest risk settings are adequately supported in enhancing resident health and preventing tragic outcomes.
Climate change
Get informed.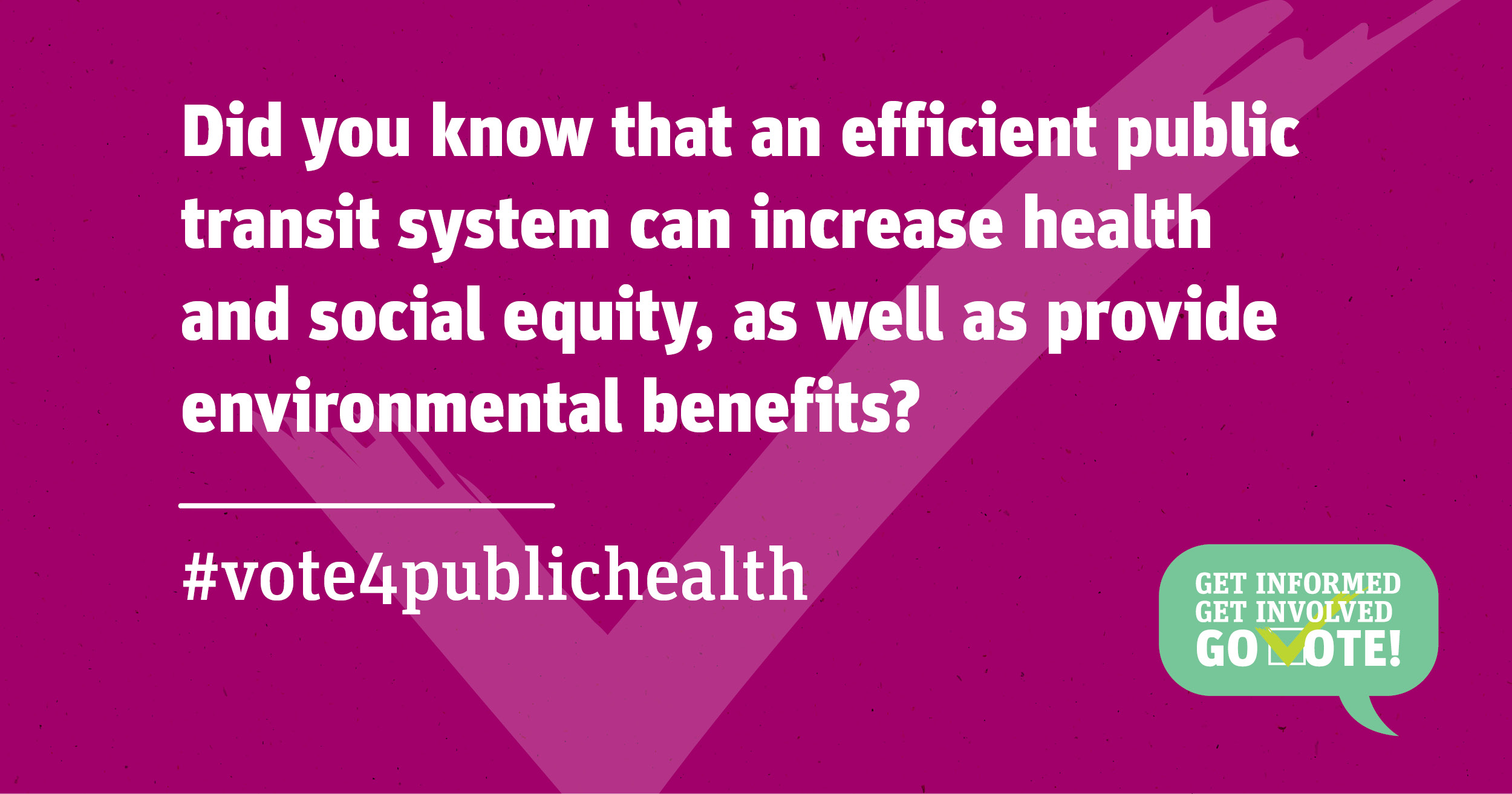 The transportation sector is the leading source of climate emissions, responsible for 35% of Ontario's greenhouse gas emissions.14
An efficient public transit system can increase health and social equity, as well as provide environmental benefits. Many people do not drive because of their age, income, ability, or choice. Access to efficient public transit provides an independent way to access jobs and essential services and allows people living on lower incomes to direct more of their earnings to food, clothing, and rent. The effects of public transit are even more impactful when transit vehicles are electric powered and emit no pollutants.15
Physical activity is a well-known benefit to mental and physical health. Active transportation (replacing car trips with walking or cycling) is an ideal way for busy people to build healthy activity into their lives.8
Neighbourhoods and streets that are more walkable and cycle-safe in their design benefit people of all ages and income levels.16
Key recommendations:
Invest in public transit and active transportation to reduce greenhouse gas emissions, thereby creating healthy and green communities that increase physical activity.
Public health
Get involved.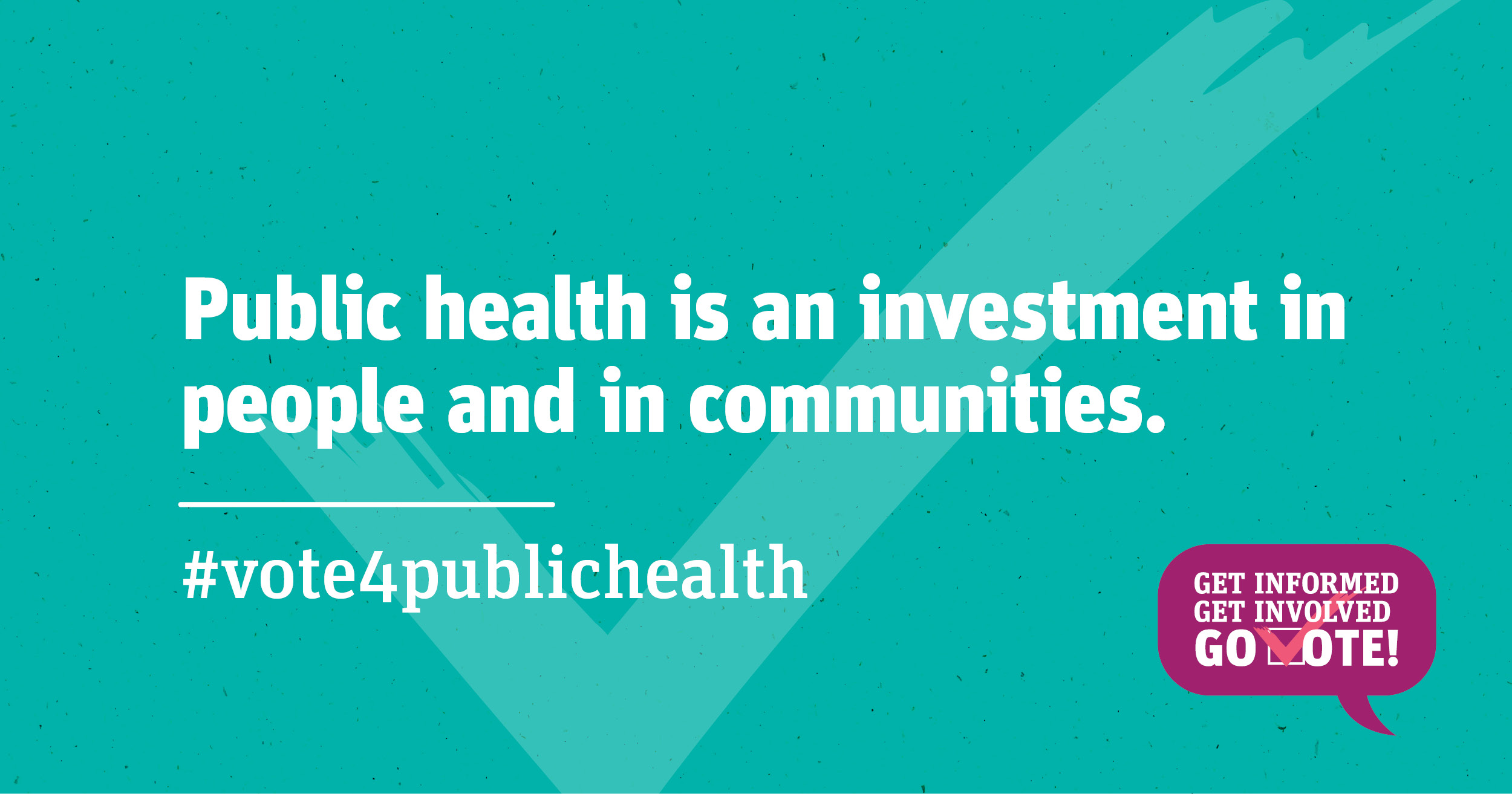 Public health continues to play a critical role in responding to the COVID-19 pandemic. We have saved lives by reducing community spread and have increased protection through vaccination. While we remain committed to this important work, we must refocus our energies to our other responsibilities. This includes offering routine vaccination, fostering mental health, and creating safe and supportive spaces where people live, learn, work, and play.
In these and other areas, we will recommit our expertise and resources to promote and protect health and to prevent disease for our clients and communities.
Key recommendation:
Ensure adequate funding and investments to support recovery efforts to reduce the backlog in Public Health programs and services to meet community needs, including immunization catch-up programs that promote the health of individuals and communities and reduce the burden on the health care system.
Federal, provincial, and municipal elections
For information on upcoming and past elections, candidates, political parties, electoral districts, and voter registration visit the following websites:
The Ontario Ministry of Municipal Affairs and Housing also has municipal election resources for voters as well as for candidates.
---
References
Canadian Mental Health Association Ontario and Pollara Strategic Insights. (Wave 3, March 2021). CMHA Mental Health during COVID-19 Ontario Survey.
Tarasuk V, Mitchell A. (2020). Household food insecurity in Canada, 2017-18. Toronto: Research to identify policy options to reduce food insecurity (PROOF). Accessed April 25, 2022: https://proof.utoronto.ca/resources/proof-annual-reports/household-food-insecurity-in-canada-2017-2018/
PROOF Food Insecurity Policy Research. (2022). What does record inflation mean for household food insecurity in Canada? March 16, 2022. Accessed April 28, 2022: https://proof.utoronto.ca/what-does-record-inflation-mean-for-household-food-insecurity-in-canada/#:~:text=What%20is%20the%20potential%20impact,are%20forced%20to%20make%20compromises.
Tarasuk V, Mitchell A. (2020). Household food insecurity in Canada, 2017-18. Toronto: Research to identify policy options to reduce food insecurity (PROOF). Accessed April 25, 2022: https://proof.utoronto.ca/resources/proof-annual-reports/household-food-insecurity-in-canada-2017-2018/
Ontario Dietitians in Public Health. (2020). Position Statement and Recommendations on Responses to Food Insecurity. Accessed April 25, 2022: https://www.odph.ca/upload/membership/document/2021-04/ps-eng-corrected-07april21_3.pdf
Decent Work & Health Network. (2022). Prescription for a healthy pandemic recovery: Decent work for all. Accessed April 25, 2022: 2022.04 DWHN Report.pdf – Google Drive
Decent Work & Health Network. (2022). Prescription for a healthy pandemic recovery: Decent work for all. Accessed April 25, 2022: 2022.04 DWHN Report.pdf – Google Drive
Decent Work & Health Network. (2022). Prescription for a healthy pandemic recovery: Decent work for all. Accessed April 25, 2022: 2022.04 DWHN Report.pdf – Google Drive
Centre for Addictions and Mental Health. (2022). Housing and Mental Health Policy Framework. https://www.camh.ca/-/media/files/pdfs—public-policy-submissions/housing-policy-framework-pdf.pdf
Public Health Sudbury & Districts. (2019). Circles Sudbury Story Map. https://www.phsd.ca/health-topics-programs/health-equity/a-community-approach-to-poverty-reduction
Statistics Canada. (2020). One in ten Canadian households living in core housing need in 2018. https://www150.statcan.gc.ca/n1/daily-quotidien/201002/dq201002a-eng.htm
Canadian Mortgage and Housing Corporation. (2022). Rental Market Report. https://assets.cmhc-schl.gc.ca/sites/cmhc/professional/housing-markets-data-and-research/market-reports/rental-market-report/rental-market-report-2021-en.pdf?rev=a5a0eaac-6f70-4058-8aa3-e6d307685910
City of Greater Sudbury. (2022). 2021 Point In Time Homelessness Enumeration Results Report. https://www.greatersudbury.ca/live/homelessness-initiatives/reports-and-research1/2021-homelessness-enumeration-report/
Government of Canada. (2022). Provincial and Territorial Energy Profiles – Ontario. https://www.cer-rec.gc.ca/en/data-analysis/energy-markets/provincial-territorial-energy-profiles/provincial-territorial-energy-profiles-ontario.html#:~:text=GHG%20Emissions,-Ontario's%20GHG%20emissions&text=The%20largest%20emitting%20sectors%20in,9.3%20MT%20CO2e
Canadian Health Association for Sustainability and Equity. (2021). Public Transit – Good for health, social equity and the planet! https://chasecanada.org/2021/11/11/public-transit-good-for-health-social-equity-and-the-planet/
Canadian Health Association for Sustainability and Equity. (2021). Active Travel – Good for health, social equity and the planet! https://chasecanada.org/2021/11/09/active-travel-good-for-health-social-equity-and-the-planet/
This item was last modified on May 12, 2022