Drug exposure during pregnancy
The use of drugs during pregnancy can lead to various negative health outcomes including preterm labour, cardiac anomalies, reduced cognitive development and infant death. Drugs include: cocaine, gas/glue, hallucinogens, marijuana, methadone, narcotics, opioids and other drugs.
Drug use during pregnancy is known to incur risk to the unborn baby, and is considered socially undesirable. As a result, it is difficult to obtain accurate estimates of drug use in pregnant women due to potential unwillingness to disclose drug use during pregnancy.
Key findings:
In Sudbury and districts, 5% of women reported exposure to any drug during pregnancy in 2016.
The proportion of women with any exposure to drugs during pregnancy in Sudbury and districts has been slightly higher than that in Ontario.
Between 2013 and 2016, the proportion of women who were exposed to drugs during pregnancy in Sudbury and districts has remained relatively stable.
Notes:
These results do not include data from residents of First Nations reserves.
Data source: BORN Information System, Better Outcomes Registry Network. Extracted March, 2017.
Figure: Annual proportion of women who were exposed to drugs during pregnancy, by geographic area, 2013 to 2016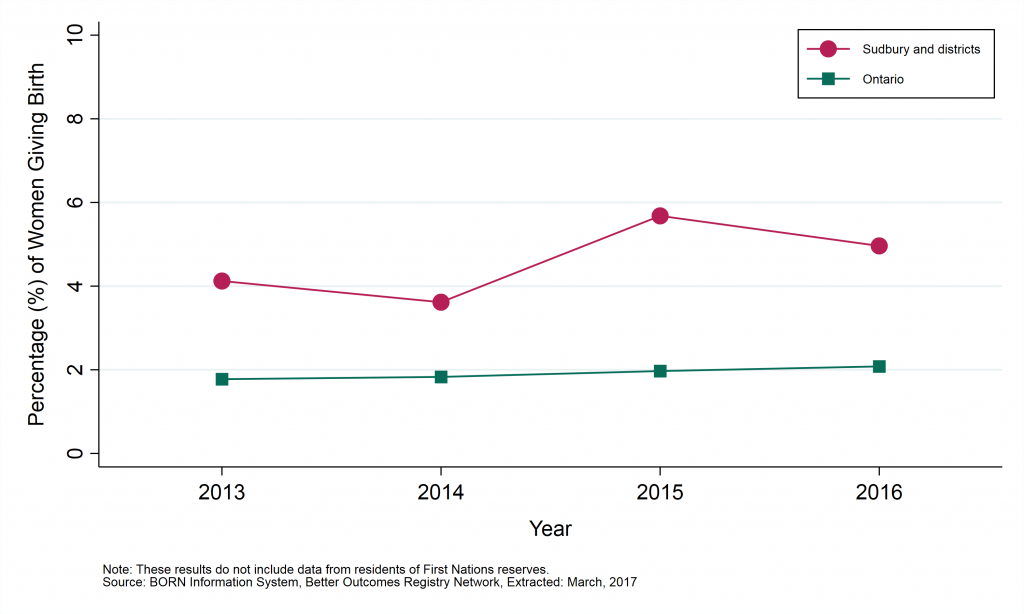 Table: Annual proportion of women who were exposed to drugs during pregnancy, by geographic area, 2013 to 2016
| Geographic Area | 2013 | 2014 | 2015 | 2016 |
| --- | --- | --- | --- | --- |
| Sudbury and districts | 4.1 | 3.6 | 5.7 | 5.0 |
| Ontario | 1.8 | 1.8 | 2.0 | 2.1 |
Table: Annual number of women who were exposed to drugs during pregnancy, by geographic area, 2013 to 2016
| Geographic Area | 2013 | 2014 | 2015 | 2016 |
| --- | --- | --- | --- | --- |
| Sudbury and districts | 78 | 70 | 107 | 92 |
| Ontario | 2,439 | 2,508 | 2,705 | 2,870 |
---
This item was last modified on October 26, 2018